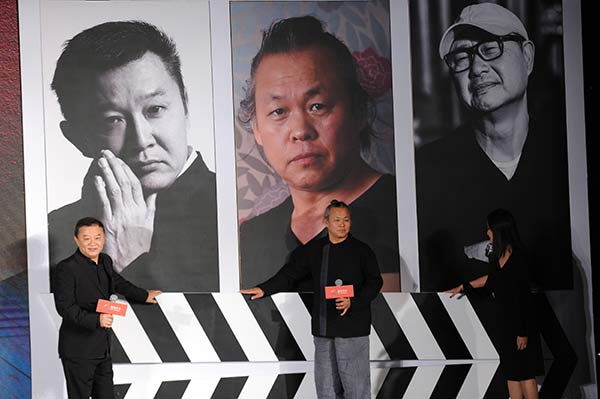 South Korean filmmaker Kim Ki-duk (center) announces in Beijing that his first Mandarin movie, Who Is God, is being financed by a Chinese film studio and will recruit an allChinese cast. Jiang Dong / China Daily
With many South Korean filmmakers moving to neighboring China for a wider and more lucrative market, Kim Ki-duk has become the latest big name to join the flock.
Kim, 55, recently announced in Beijing that his first Mandarin movie, Who Is God, is financed by a Chinese film studio and will recruit an all-Chinese cast. With a budget of 150 million yuan ($23.6 million), the religion-themed film plans to shoot all the scenarios in China.
A new player in the fast-moving industry, Hangzhou-based Film Carnival has signed a contract with Kim, who will also act as chief creative officer of the company.
The script, which took the prestigious art-house auteur 10 years of research in South Korea, China and Japan, revolves around a fictional kingdom's wars with five foreign tribes set in a Buddhist backdrop.
Kim, wearing his landmark bun-topped hairstyle, reveals the film aims to examine humanity and question the nature of religion, and says, it will be about "how politics manipulates religion".
"This movie is not just targeting the Chinese market. The subject will interest the US and Europe as well," Kim told reporters on Saturday at the Busan International Film Festival, according to the Associate Press.
Explaining the inspiration behind the modern world's religious wars, the veteran director also explores the relation between space and time.
"China is on its rapidly developing way to become the center of world's movie industry. Chinese moviemakers will go further and explore the international market deeper," says Kim at a media event in Beijing. He believes the diverse development of the world's second-largest movie market will match his interests.
When Kim saw the Chinese film set, with each director sitting before a modern 60-inch monitor, he thought: "This could perhaps let me make the most of my ability," he says.
Early this year during the 2015 Beijing International Film Festival, Kim expressed regret that his titles are unable to obtain licences for general releases on the mainland, though he was among the seven-member jury of the Tiantan Award. Though they have long been favorites at international festivals, Kim's works are known for their controversial themes with religious, sexual and often graphic, bloody scenarios.
His stylized classics include Samaritan Girl, the 2004 Berlin International Film Festival's best director winner, and Pieta, the Golden Lion winner at the 2012 Venice Film Festival. The highly-acclaimed Pieta is the first South Korean title to win a best-picture honor at one of the top three international film festivals - Venice, Berlin and Cannes.
Aware of the controversies over his films, Kim says he will try to revise some of the sensitive parts to make Who Is God meet Chinese censors' requests.
His Chinese financiers showcase a more cautious attitude with a backup plan.
Lou Xiaodong, president of Film Carnival, reveals that they are preparing a possible switch to overseas markets, especially in Europe, in case the script fails to pass censors here.
Some trade analysts say that religion-themed films are in a sensitive zone, usually facing strict checks from the country's top regulator for the movie sector.
Alongside Kim's God, two big-budget fantasy projects, Ne Zha and Oriental Fairy Tales - respectively directed by Hong Kong commercial directors Jeffrey Lau and Ching Siu-tung - will get investment from Film Carnival this year. The two celebrated box-office names would seem to cut down the company's financial risk from its artistic adventure.
"A general phenomenon for art-house movies is that most of them struggle to survive. We strive to provide for more space for them to develop," says Lou.