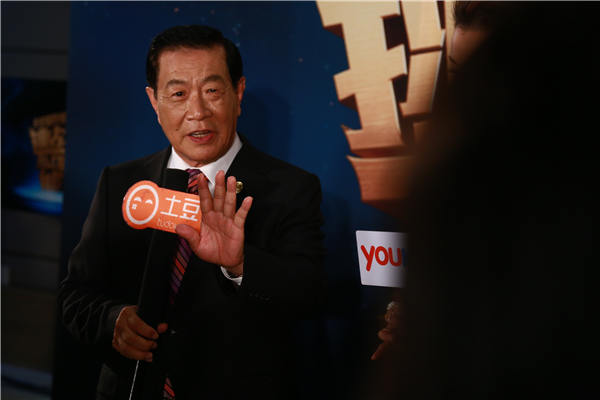 Henry Chang-Yu Lee at a press conference in Beijing for the reality TV show he stars in. Provided to China Daily
Henry Chang-Yu Lee, the forensic scientist, had his own number tag (2056) at the Connecticut Department of Public Safety. But whenever his colleagues phoned for him, they asked for "007".
In his career of more than 50 years, the Chinese-American investigator has been variously described as "Chinese Holmes", "king of crime scene" and "most feared crime fighter" for the thousands of cases he helped crack, including the O.J. Simpson case and a re-investigation into president John F. Kennedy's assassination.
Not to exaggerate his power of observation, but while looking at an empty table and chairs, he could say how tall the guests were, based on how far the chairs were from the table, whether or not the guests were on good terms, based on the angles of furniture, how many days the room had stayed vacant (he sniffed it) and scores of other clues that would escape others.
"I've done this for such a long time now that you had to have a sense," Lee told China Daily in an interview last month.
Now, his skills are being put to test in a new role.
He stars in a reality TV show, Challenging the Impossible, which is currently being aired by China Central Television every Sunday. Lee is the guest judge who helps to find people who, by defying human limits, do the most outrageous things like tightrope walking between mountains at 3,500 meters above sea level, prying open beer bottles with an opener fastened to a helicopter frame and listening to the sound of currency notes to determine their value.
Aside from satisfying Lee's curiosity of what people are capable of, he says he agreed to appear on the show because it somehow contributes to his dream of a crime-free society.
"My dream for all my life is this, that people are nice to each other and work to build a better society, no crime at all and no use for us policemen," he says.
"But then policemen can only do so much, they cure the symptoms but not the deep cause," Lee says. "If people challenge themselves, test their own limits instead of testing those of others, so much crime can be avoided."
Lee was born in 1938 in East China's Jiangsu province and moved to Taiwan with his family in 1949, thereafter beginning his years as a crime fighter. He didn't realize it would be his life's calling then.
"The police officer's school fed me well and exempted all tuition (fees). It was all that I cared about," he says of his time in Taiwan. His single mother was then raising 13 children.
Lee became a captain at age 25, the youngest in the island's history.