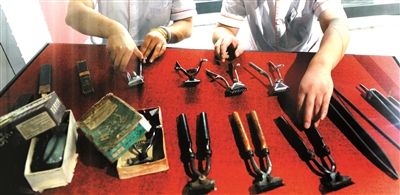 [Photo/people.com.cn]
A museum dedicated to hairdressing, the first in Beijing, is set to open in late August on Jiu Gulou Waidajie in the capital.
Founded by Beijing's time-honored brand Silian Hairdressing and Beauty Salon, the 100-square-meter museum will house hundreds of pieces related to hairdressing. There will be no entry fee.
Through four sections, namely, historical change of hairdo, industry figures, hairdressing culture and Silian's culture and history, the exhibition will showcase the changes in China's hairdressing history.
It will display not only ancient hairstyle pictures, but also physical objects such as stone tools used by ancient people for hair cut, ancient wooden comb and hairpin, modern and contemporary hairdressing equipments, many of which are rare treasures.
At the interactive experience area of the museum, visitors can choose coiffure from hair styles of various dynasties on two iPads and take a photo, and see what it is like to have an ancient hair style.
According to Wu Xiumin, Director of Silian Hairdressing and Beauty Salon, the museum will continue to collect exhibits.
During the 1950s, under the arrangement of Zhou Enlai, founding premier of the People's Republic of China, four famous Shanghai hairdressing salons united in Beijing to form Silian, or Four United, Hairdressing and Beauty Salon.
 Related: Beijing's 10 strangest museums