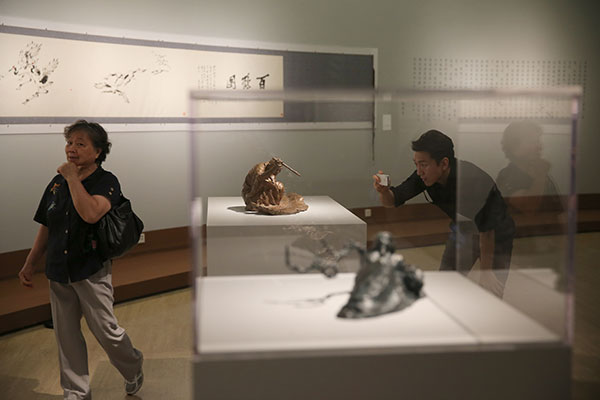 [Photo by Jiang Dong/China Daily]
It's been more than half a century since Yuan Xiaocen (1915-2008) held his first solo exhibition at the National Art Museum of China.
The artist demonstrated attainment in both sculpture and Chinese painting. A retrospective show now on at the NAMOC displays some 50 sculptures, 20 ink paintings and 150 drafts, which reflect on Yuan's artistic exploration.
Yuan lived and worked in Yunnan province for several decades till death. He established an art vocabuaryvocabulary that embodies the distinctive geographic and cultural elements of southwestern China.
And he extended the expressiveness of free-style flower-and-bird painting, which are is exemplified by the peacocks and cranscranes in his paintings. The exhibition runs until July 2.