New all-day buffet mirrors Chinese admiral's voyages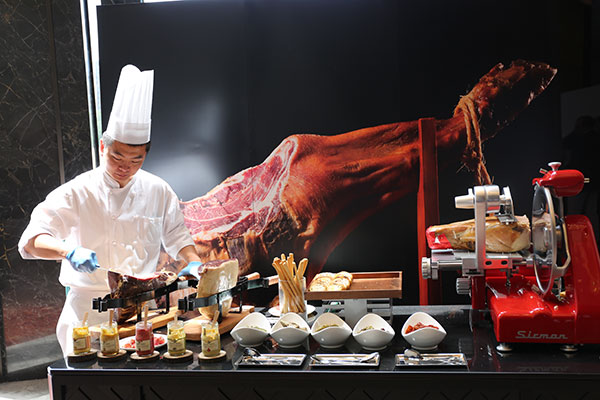 Fresh-carved Parma ham is served up at the Italian station of the 12-nation buffet. [Photo/China Daily]
The hotel calls the chefs its "dream team". The kitchen's leaders - executive chef Nikolaos Lekkas from Greece, executive sous chef Eugenio Iraci from Italy and Chinese executive chef Tam Yim Chan from Hong Kong - are just the start of a culinary bonanza from a dozen countries. Other chefs bring the tastes of Thailand, India, South Korea, Japan, Indonesia and Syria in an armada of cuisine that would have made the Ming Dynasty (1368-1644) admiral Zheng He smile.
That's precisely the idea of N'Joy, the all-day dining room of Beijing's brand-new Nuo Hotel.
The gray-walled dining room, elegant but understated, is a sea of kitchen islands offering the cuisines that Zheng, the legendary Chinese navigator, might have encountered on his 15th century voyages that foreshadowed the traders who populated the Maritime Silk Road.
At first glance there seems to be more space dedicated to chef's stations than to dining tables, perhaps an illusion in the airy dining room with windows looking out on a Orient-inspired garden. Following other cruising diners, we find irresistably fresh tuna at the sushi end of the Japanese station. There's a light but aromatic pad Thai just downstream, next to some sassy Korean barbecue and a nice assortment of Indian curries that changes daily at that station. That finishes our first exploration of the buffets' bounty - oh, wait: Arabic lentil soup? A free hand scoops up a savory bowl.