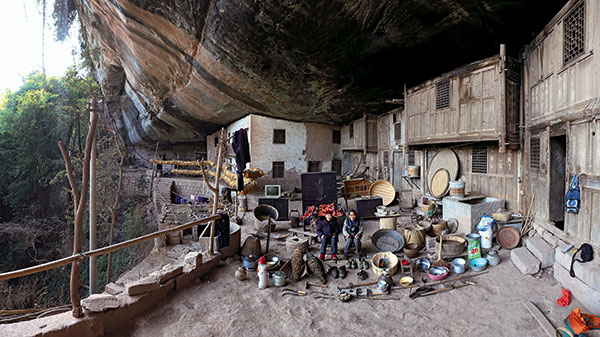 A cave family in Hubei province. [Photo by Ma Hongjie / For China Daily]
Over more than a decade, a photographer captures the essence of living by focusing on people's possessions, Xing Yi reports.
In a recently published photo album The Family Belongings of Chinese People, social documentary photographer Ma Hongjie tries to capture the life of Chinese people through a different angle - their daily objects.
From 2003 to 2014, Ma visited 45 families of different ethnicities and income levels, and took photos of them with their family belongings displayed together.
"What is home? I think home is the place that you came from and that you miss after you leave it," Ma, 52, wrote in the preface. "In a sense, family belongings are a tangible form of home."
Ma asked families to move all the contents of their homes outside, and carefully set up the stage, with the people facing the camera at the center, surrounded by a whole set of their daily objects, and their home in the background.