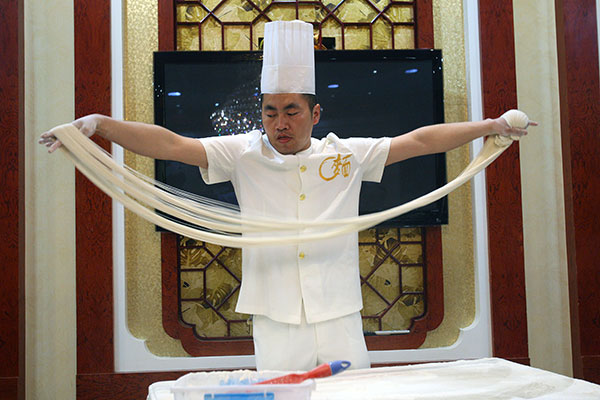 A chef demonstrates the process of noodle-making. [Photo by Wang Zhuangfei/China Daily] 
A common greeting in China is the question, "Have you eaten?" It shows the importance of food in the Middle Kingdom. The Chinese are rightfully proud of their cuisine.
"Food is the god of the people", is a Chinese saying that speaks for itself. There are few other countries where you can find so many different tastes than in China. Each region has its own characteristics, and depending on the season you can find particular prepared delicacies.
For example, in Sichuan the food is hot, with generous use of peppers and spices. By contrast, Shanghai has a lot of rivers and other bodies of water. Fish and other seafoods naturally constitute a large part of the cuisine there. In northern China, where climate does not allow for the growing of rice, wheat is the staple, and Shanxi takes full advantage. It is famous for its noodles made of wheat. It has a recorded history of more than 2,000 years in making wheat-flour noodles.
Every kind of noodle imaginable can be found in Shanxi. By creatively pulling, tearing, cutting or rolling, the dough is transformed into all manner of noodle shapes and sizes. Even Marco Polo was inspired by the making of the Shanxi noodles, which led him to take the recipes back to Italy and Europe. The most popular Shanxi noodle is the diao xiaomian. This noodle is shaved from a giant block of dough hoisted over the chef's shoulder. The noodles are shaved off directly into boiling water. Famous as well are the lamian, or pulled noodles. It is a wonder to watch as 4.5 kilograms of flour is kneaded, stretched and pulled into delicate, even strands, which are cut with an enormous pair of scissors as the giant spool of dough is rotated. There is a phrase that describes the noodle-making process: "One noodle in the boiling water, one flying in the air, and one just being cut". An experienced chef can work very quickly, standing in front of a big pot of boiling water, shaving off noodles that are 15 centimeters long at a rate of 200 per minute.
The noodles are usually served in a small bowl, mixed with fresh vegetables and a mild meat-based broth. As a special refinement you can put some Shanxi vinegar on top. The extra aged vinegar is an iconic product of the region as well.
One can find good handmade noodles all over China today, but Shanxi province is special. It's where the art of noodle-making reached its zenith.