Dinner at the top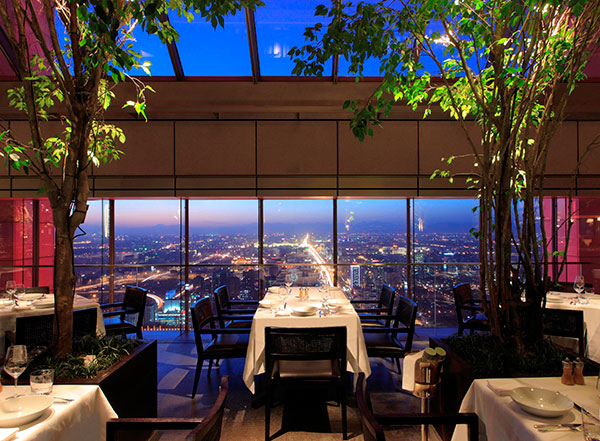 China Grill, perched atop the 66th floor of Park Hyatt Beijing in the heart of Beijing's CBD, offers a grand vista at twilight. [Photo provided to China Daily]
A new Hungarian chef brings a world view to a hotel restaurant with a great city view, Liu Zhihua reports. Liu Zhihua
People come to a restaurant for the food, but at China Grill, one of the highest restaurants in the country, diners also come for the breathtaking views. Atop the 66th floor of Park Hyatt Beijing in the heart of Beijing's CBD, the restaurant under a glass pyramid gives diners a feeling of sitting above the clouds, with a 360-degree bird's-eye view of the Chinese capital. The most remarkable architecture of Beijing, viewed from a dizzyingly height of 249 meters above the ground, looks like orderly assembled children's blocks.
On a clear day, the view might seem to extend to Hungary, homeland of the restaurant's new head chef, Szabolcs Diviki. A master of French cuisine, the 35-year-old was born in Budapest and entered the culinary profession at age 15, a dream that budded while he helped his parents on the farm and in the kitchen as a young boy.
After three years of professional school education, Diviki landed in a kitchen of a hotel in the capital that soon jumped from a four- to five-star hotel rating. Six years later, his career took him to France, including a stint at the restaurant Lou Fassum, where he learned from the experienced and creative chef Emmanuel Ruz, who holds one Michelin star. Then, he came to Beijing at the behest of his Chinese girlfriend.
He says Ruz and other colleagues taught him how to work with fresh and quality ingredients, especially seafood, and the aesthetic of food presentation with simple decoration. But most importantly, he learned to combine the best of French and Hungarian culinary arts.
"Hungarian cuisine is basically similar to French, except we don't have much seafood tradition, and we use lots of seasonings," Diviki says.
"When I first arrived in France I was asked to forget everything I'd learned in Hungry, including how to cut an onion or meat. But gradually I realized not everything in French cuisine is automatically good."
For instance, Diviki says, French cuisine is not as good at using seasonings as Hungarian and Chinese cuisines, and the flavor is usually light. He adds that Hungarian people like to use myriad sauces that can complement and match well with a lot of dishes, Diviki says.