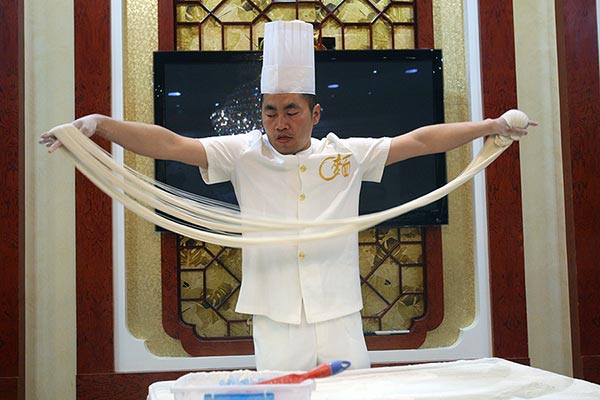 Wang Zhuangfei / For chinadaily.com.cn
Drown them in abundant tomato sauce or dip them in soy sauce. Top them with chives or sprinkle them with parmesan cheese. Eat them with chopsticks or handle a fork and spoon. Call them spaghetti or miantiao.
No matter what, noodles remain the same.
Skillful hands are needed to mix flour and water and work the dough into one of the most ubiquitous dishes on Earth.
It's a mystical procedure that takes place every day in Taiyuan, as well as in Rome, Italy. The stomachs and hearts of Italians and Chinese alike are fed with the same warmth.
Through the centuries, the two peoples were able to preserve tradition despite brutal epicurean practices that are painful even to write — like topping pasta with ketchup and mayonnaise, as some in central Europe do.
Luckily, a true noodle culture has emerged on both sides of the Eurasian continent.
Variety is the cornerstone that sustains the temple of carbohydrates. The chefs of Shanxi, like their Italian counterparts, are able to turn water and flour into an extraordinary array of noodles — literally hundreds of shapes and sizes. Different sauces and toppings make each type a unique delicacy to taste. As a consequence, Italians and Chinese equally enjoy dishes that are rich in color and flavor, while maintaining a healthy diet.