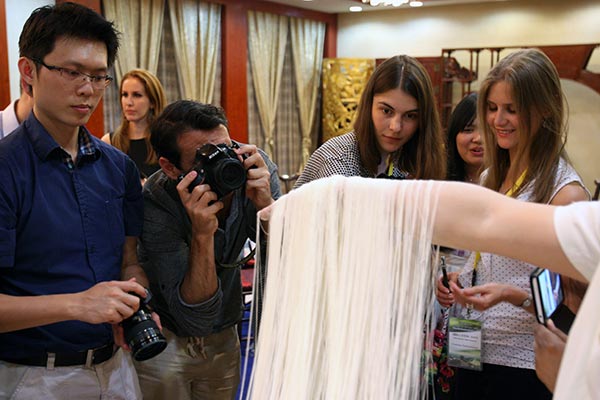 Wang Zhuangfei / For chinadaily.com.cn
There are certain imilarities between some Italian pastas and Chinese miantiao. Shanxi's pulled noodles are the result of relentless efforts in working the dough beyond all rational limits to reach an incredible thinness that make them similar to Italian capelli d'angelo, or angel hair pasta, a type of spaghetti.
Depending on their length, shaved noodles may resemble other kinds of spaghetti, such as vermicelli or tonnarelli, which are dipped in abundant cheese and pepper in Roman cacio e pepe pasta. Finally, chopped noodles arguably are as delicious as those in Italy, served in liguria under thick layers of pesto.
The beautiful Italian orecchiette, skillfully prepared every Sunday by old women in Apulia, look a lot like Shanxi's zhuan pan noodles, which are usually drowned in tasty soups.
Whereas many differences and similarities are easy to see, it is noodles that that draw Italy and China surprisingly close. Tasting Shanxi noodles will surely be a pleasant experience for visitors from the Bel paese — beautiful Italy — as well as for all pasta lovers traveling in this equally beautiful Chinese region.