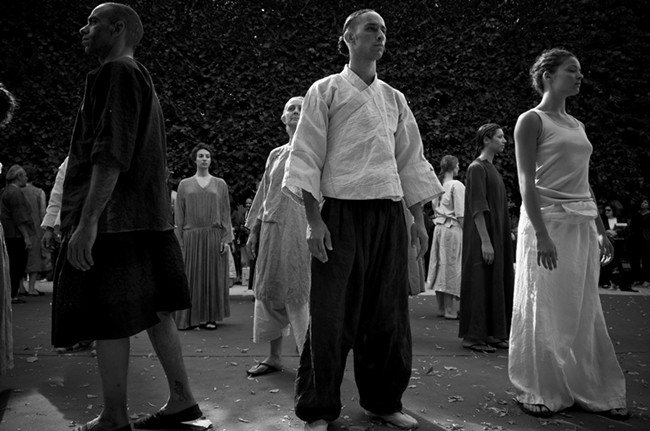 Wu Yong's 2008 show in Paris was called "Luxury of Austerity".[Photo/China Daily]
Designer Ma Ke, whose once low-profile label Wu Yong is a big name in Chinese fashion today, often turns to rural China for inspiration.
In 2013, public spotlight fell on her, as media reported President Xi Jinping's wife, Peng Liyuan, dressed in clothes designed by Ma on official trips abroad.
The 44-year-old designer founded Wu Yong (meaning "useless" in Chinese) following a conversation with a poor farmer in 2006.
"I asked him if he needed more stuff at home. 'What stuff?' he said. 'I have food to eat and a bed to sleep in. There's nothing more I can think of right now that I want,'" Ma quotes the elderly man from the countryside as telling her. "In retrospect, his answer changed the course of my life."
Ma then started to reconsider the difference between fashion and clothes, rendered glaring by rampant consumerism in Chinese society, she says, adding that we all live in an era, where not just things but people are also judged by their levels of usefulness.
"It is a concept that I find absurd."
With Wu Yong, she set out to challenge this common thinking by making fashion and household items from discarded things, she says.
A tour of the Wu Yong showroom spread over 1,000 square meters in a Beijing neighborhood behind National Art Museum helps to understand her point. Here, rough-hewn furniture refashioned from junk wood, are seen placed beside some of her designer clothes.
The showroom opened in September last year, and it is currently the only Wu Yong branch that sells sofas, table lamps and other household goods alongside fashionable clothing, according to Su Lijun, an employee at the museum-like space.
While she refuses to call her clothes business a commercial or fashion venture, the acclaimed designer who set up the highly popular local brand Exception, does like to experiment with her products.
"Our clothes are hand-woven, made from natural materials such as cotton and linen. And we only do plant dyes," says Su.
A Wu Yong workshop in Zhuhai city in South China's Guangdong province, where Ma's company is based, has some 40 workers, with the majority being weavers. For the designer, the concept of sewing by hand and weaving are essential to what she describes as "emotive dressing".
The designer says her clothes seek to establish communication between the weavers and consumers. Her business acumen shines through when she adds: "And that extends the lifespan of my designs."
Ma often reminds her employees about the need to cultivate a sense of attachment in their customers for the purchases they make.