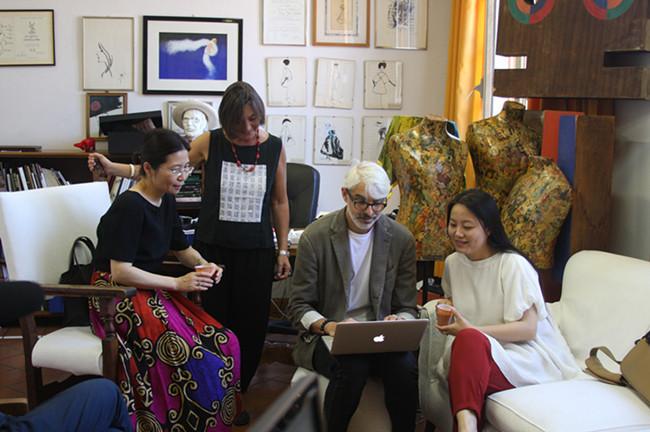 Andrea Lupo Lanzara, second right, shows Chu Yan, right, designs by students. [Photo/Chindadaily.com.cn]
Explore the Beauty of Chinese Costume, the last in a series of lectures organized by the Chinese Ministry of Culture, was held at the Italian branch of the Institute for International Education of Students in Rome.
The same lecture was also delivered in the capitals of France (Paris) and Denmark (Copenhagen). They were the first sessions of Chinese Culture Talk, lectures on Chinese philosophy, religion, literature, cuisine, medicine and other traditional culture-related subjects in Europe.
The event in the Italian capital was sponsored by the Culture Office of the Chinese Embassy in Italy, Accademia Internazionale D'alta Modae D'arte Del Constume Koefia (Koefia's International Academy of Fashion Design), Accademia di Costume e di Moda (Rome Academy of Fashion) and Italy Branch of Institute for International Education of Student(http://www.iesabroad.org).
Chu Yan, an associate professor at the Beijing Institute of Fashion Technology as well as one of the top 10 fashion designers in China, spoke at the event which was attended by China's Cultural Counselor to Italy Zhang Jianda, and around 50 teachers and students in the field of fashion design in Rome.
Chu displayed photos of traditional Chinese costume and talked about the historical evolution of the function, aesthetics and social customs of Chinese clothes. There was also a mini fashion show.
"I gained a lot of useful information, and have a new understanding of Chinese costume after such a wonderful lecture. My perception of Chinese fashion has shifted hugely," said a professor from the Accademia di Costume e di Moda. "There are strong cultural characteristics in traditional Chinese costume and many innovations in modern Chinese design. Chinese designers need to keep these characteristics, instead of imitating Western designs. If so, I'm sure Chinese design will rise up soon in the world".
Before the lecture, Chu visited the design office and showroom of Accademia di Costume e di Moda, and spoke with Andrea Lupo Lanzara,general director of the academy, and students about their design works.
Chu gave the same lecture to the staff of the Chinese Embassy in Italy the following day, and discussed the development and innovation of Chinese full dress. Led by Li Ruiyu, the Chinese Ambassador to Italy, some embassy officials took to the catwalk in outfits designed by Chu.