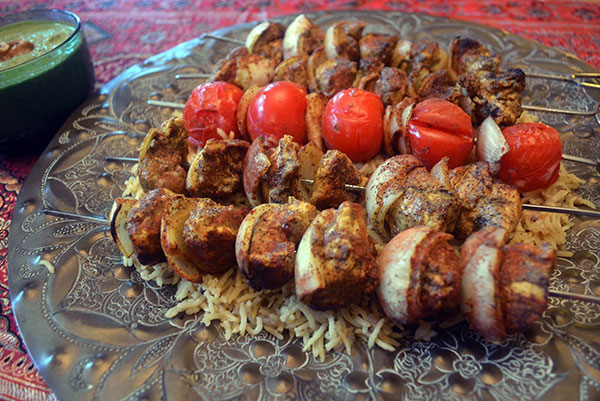 Chicken kebabs with cinnamon and black pepper with a side of Afghan cilantro sauce. [Photo by Mike Peters/China Daily]
Laura Kelley is a trained scientist, but cuisine is her true passion. The enthusiastic foodie tells Mike Peters why she wrote a book based on her culinary adventures across the Silk Road.
She's a scientist - a biologist - and a public-health researcher. But ask Laura Kelley what her driving passion is, and the answer may surprise you.
"Baking bread with Kazak women in primitive ovens, that's what I love doing," says the author of The Silk Road Gourmet cookbook and a culinary website and blog based on her travels.
We're chatting via Skype, and even the remote technology can't hide the fact that Kelley is thrilled to be grilled about what she's doing and why.
"I've never been a writer - just reports and such," she confides, "so the book was just a brave new thing."
How did a biologist who traveled the world on decontamination missions become such a foodie?
"It's not like I accidentally wandered into it," she says. "I was born into an old Italian family - we lived in the kitchen. My mother always wanted to feed everybody - if the TV repairman came or 30 relatives, it was all the same: 12 courses and eating all day, meals sort of like you see at Chinese New Year."
One inspiration: The Viking Cookbook. "That was like combining archaeology, a cooking expert and a sommelier", noting that the reconstructed cooking for those ancient seafaring Danes was "based on food hints in sagas, etc". Fascinating, she concedes, but "the best analytical evidence is based on real evidence".