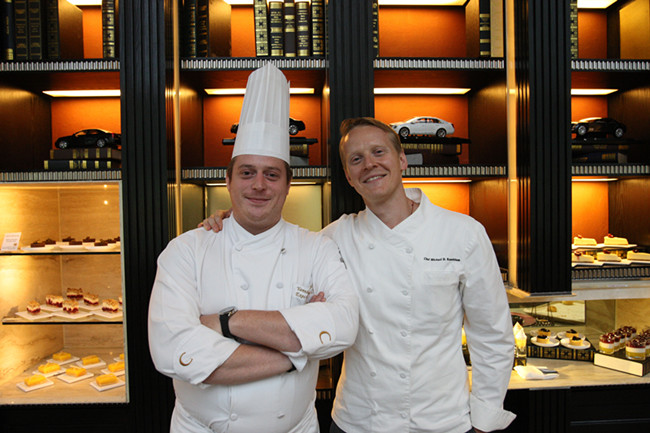 Chef Yannick Ehrsam (left) and chef Michael Rosenblum.[Zhang Zhuangfei/China Daily]
Take the words "American" and "food", and you have the ingredients for a popular misconception: In the United States the cooking lessons ended once the burgers, French fries and ketchup hit the table.
Of course, that thinking is as simplistic as thinking chicken chow mein is the pinnacle of Chinese cuisine, yet many people in China cheerfully chew, swallow and digest this simplistic view of American food, and Michael Rosenblum wants to dispel it.
Rosenblum, executive chef and chief of mission of the US ambassador's residence in Beijing, and Yannick Ehrsam, executive chef of the Conrad Beijing, have cooked up the idea of a festival - American Classics. It was held in Beijing last week.
During the festival, held in the Chapter restaurant of Conrad hotel, visitors were able to feast on a host of delicacies once found along the fabled Route 66, the highway that stretched almost 4,000 kilometers from Chicago to Santa Monica, California.
Naturally, a Californian dish was served at the festival, walnut pesto salad. Other dishes included New Mexico pecan pralines, San Antonio chili verde and Texas brisket. Not exactly stereotypical US fare, but food that many of the Americans who attended felt at home with, and Chinese visitors relished.
Rosenblum, who has worked as a chef in China for more than 10 years, says: "I don't think China in general has associated America with great food and wine.
"We are trying to educate them that American food is not just fast food. We also promote healthy ingredients. Chinese use goji berries, and Americans use cranberries. They both have antioxidant benefits.
"And there are Californian wines that stand shoulder to shoulder with the best wines in the world."