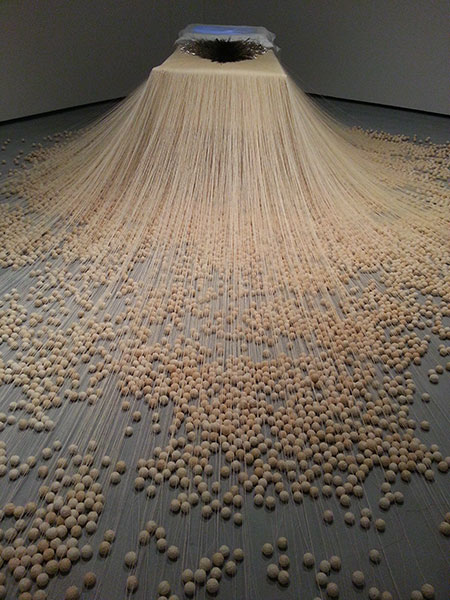 The Civil Power features artworks by both established and promising young artists. [Photo by Deng Zhangyu/China Daily]
A new art museum opens in Beijing, backed by a banking enterprise. Deng Zhangyu reports.
Following a three-year preparation, Beijing Minsheng Art Museum opened to public viewing on Thursday with a large-scale inaugural exhibition featuring contemporary art by more than 100 Chinese artists.
Considered one of the country's biggest private art museums to date, about twice the size of the National Art Museum of China, Beijing Minsheng is spread over 35,000 square meters. The space was once used as a factory, like many other such art galleries near the 798 Art Zone, a landmark of the Chinese capital.
The private museum has a shop, bookstore, cafe and warehouse for artwork storage. And the works of nearly 160 artists are on show - in a carnival-like atmosphere.
The silver box-like museum has been designed by Zhu Pei, an architect whose previous projects include working on an art pavilion with Guggenheim Foundation in Abu Dhabi.
Titled The Civil Power, Beijing Minsheng's inaugural exhibition has three sections: a competition section displaying 88 artworks selected from more than 8,000 pieces submitted by grassroots artists; an invitation section comprising 76 artists who have been active on the country's contemporary art scene over the past 30 years; and the fieldwork and art projects by four groups that spent months in rural China.
Guo Xiaoyan, deputy director of the new museum, says that they chose the artworks from the three decades since China's reform and opening-up, owing to the big changes that have taken place in the country.
Artists have also played a significant role in such changes and their creations reflect what they have documented, she says.
The exhibition's invitation section, for instance, has many works created in the 1980s and '90s. Examples are Shu Qun's A Cultural Pop Series on rock star Cui Jian and Zhang Wei's Loaders that uses a gray tone to represent the despair of workers at one time.