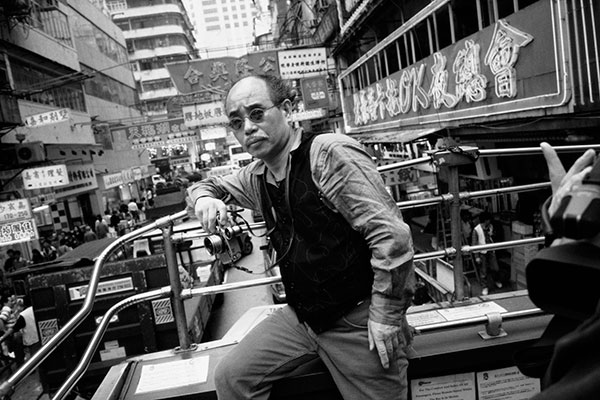 Photographer Nobuyoshi Araki displays his Hong Kong Kiss series in Shashin [Photo provided to China Daily]
Japanese photographer Nobuyoshi Araki, who visited Hong Kong in the spring of 1997 - a few months before it returned to China - had captured the city back then in a series of images that are now on display at Sotheby's S|2 gallery there. Prior to that first visit abroad, Araki had seldom left his home country.
Soon after he arrived in Hong Kong, he felt seduced by the city and he couldn't wait to venture into its crowded lanes day after day.
"It's been a while since I've been so excited ... I should tackle the outside world more. I should fight against it with my photography, just like a battlefield photographer," the 75-year-old once wrote in a journal.
Araki took more than 5,000 images of the city, and before leaving, concluded: "Hong Kong is like a mistress, like a lover. The humidity and heat is quite exhausting ... It is erotic."
The display, titled Sha-shin!, marks the diversity of Japanese photography over the past five decades. The Sotheby's show includes both well-established photographers such as Araki and Daido Moriyama and emerging talents like Mika Ninagawa.
"Araki's approach to Hong Kong was not just tracing historical time on the surface. You can sense an invisible live atmosphere," says Kyoko Wada, senior director of Amanasalto, a Tokyo-based venture that produces and publishes photos.
Wada worked with Araki to edit the '97 series.
She says that Araki captured daily scenes such as people waiting at crossroads, ticket offices and food stalls, with his highly personalized sense of humor.
Visitors can also glimpse the works on Hong Kong by Japanese contemporary artists, including the duo Nerhol and Shunsuke Kano. Ninagawa and Rinko Kawauchi, both 43, offer a female perspective of the region through their photographs.
"In many other countries, female photographers might perform their roles in representing feminism or social and political problems," says Wada. "But in Japan, female photographers tend to approach photography in a more poetic way, with a personal touch."
In that country, the price of a photo remains lower than other categories of artworks. But photos of higher artistic value and durability are now being treasured by collectors.
"When compared to the market of Western art, the Japanese contemporary photography market can't be described as very well established," says Evelyn Lin, who heads the contemporary Asian Art department at Sotheby's.
Still, the diversity of Japanese photography, along with its accessibility and affordability, attracts a younger generation of collectors and boasts a strong potential, she adds.
IF YOU GO
10 am-6 pm, Monday to Friday; 11 am-5 pm on Saturdays, through July 10.
5F One Pacific Place, 88 Queensway, Hong Kong. 852-2822-5566.