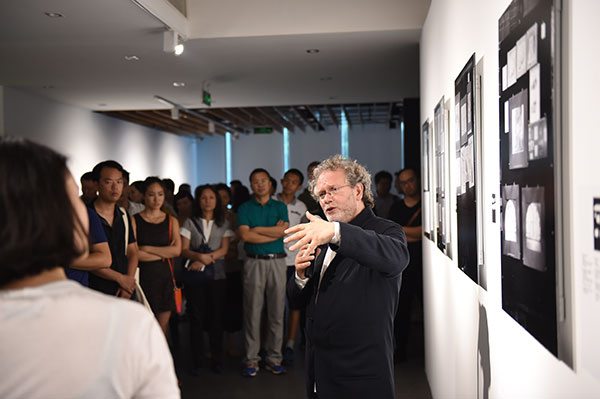 Georges Didi-Huberman, speaker of the year for the OCAT Institute in Beijing. [Photo/China Daily]
The art body OCAT opened its Beijing branch on Saturday with a show curated by French art historian and philosopher Georges Didi-Huberman, an unfamiliar name for most Chinese but who is well-known in the West.
The new OCAT Institute in Beijing is a member of the OCT Contemporary Art Terminals, an arts organization under the umbrella of He Xiangning Art Museum in Shenzhen.
Unlike its exhibition halls in Shenzhen, Shanghai, Wuhan and Xi'an, the space in Beijing is dedicated to publication, archives and academic art exhibitions and research on art history.
Huang Zhuan, executive director of OCAT Institute, describes the art world as a glacier. Shows, art museums and auctions are only the tip of an iceberg. What lies underneath is research and education, and the art institute dives deep to do the research, Huang explains.
Didi-Huberman, 62, was invited to be the institute's speaker of the year.
Besides yet-to-be-published books, seminars and lectures in China, the French scholar is also curating the current OCAT show, Memory Burns, to explore the relationship between image and time, a continuation of his show Atlas: How to Carry the World on One's Back held at Museo Reina Sofia in Madrid in 2010.
The exhibition features 11 works from artists Harun Farocki, Pascal Convert, Arno Gisinger and art historian Aby Warburg.
Before this year, Didi-Huberman was little-known in China. But the opening show has attracted many well-known Chinese artists and museum directors.
Didi-Huberman says he has long been an admirer of Asian art. Twenty years ago in France, he read about Shi Tao, a master of Chinese ink painting during the Qing Dynasty (1644-1911). When he went to the Palace Museum and saw Shi's artworks, he was impressed and quickly found a kind of relationship to his studies of images.
Huang says he notices that iconography has been a trend and a focus of art historians recently, and Didi-Huberman has much influence in the field in the West. That's why Huang is eager to introduce him to China.
Coincidentally, two Chinese publishers also found the French scholar one year ago to talk about publication of his books on art.
"I don't know why they want to introduce me to China. But they're all very professional," says Didi-Huberman, describing himself as a man who secludes himself in libraries and archives doing research.
He teaches at the Ecole des Hautes Etudes en Sciences Sociales, a leading French institution in social sciences in Paris. Two of his old books written in the 1990s will be published in China in July and his latest book is now being translated.
Beijing-based OCAT Institute will have a speaker every year on a topic that will be explored in lectures, seminars, publication of books and exhibitions.
IF YOU GO
10 am-5 pm, saily except Mondays, through Oct 11. OCAT Institute, Jinchan West Road, Chaoyang district, Beijing. 010-6737-5418.