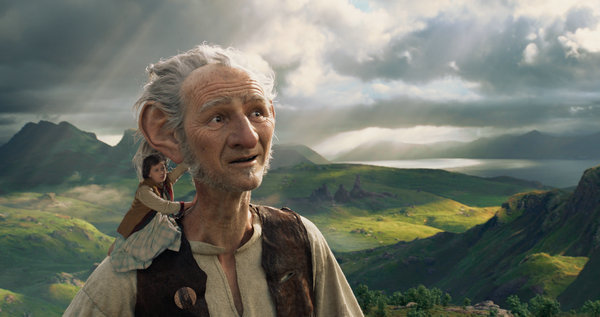 The BFG, directed by Steven Spielberg, will be released in mainland theaters on Friday.[Photo provided to China Daily]
He usually needs "fewer takes" with an untrained kid than with trained movie stars, he adds.
When talking about superstars like Tom Hanks and Leonardo DiCaprio, Spielberg says they love challenges. They seek roles that bring out parts of themselves that are unfamiliar with and might even scare them. When Hanks started out on Bridge of Spies, he admitted he didn't know how to play his character. But he found the character when shooting started.
Asked about Daniel Day-Lewis who famously stays in character even when not shooting, Spielberg says Day-Lewis was an utter professional but did not discuss his craft.
"He just kept his Lincolnian accent. I felt I spent three and half months with Abraham Lincoln. When the shoot was over, he started talking like himself again. And I cried, because I miss Abraham Lincoln."
All great actors he worked with have their own process, technique and talisman, according to Spielberg, "and I didn't get into that because it's personal".
About Mark Rylance, a theater veteran who got an Academy Award for his supporting role in Bridge of Spies, Spielberg says he noticed a kindness in him and a twinkle in his eyes, which made him perfect for the friendly giant in The BFG.
Theater actors are the most prepared and most open to change because in theater you may get new lines after the 20th performance, he adds.
Balancing act
While I agree that filmmakers graduate from fun entertainment to serious fare, it surprises me to see Spielberg "switch gears" in the same year and make two completely different movies. His answer: "It's therapy."
After making a dark film, he needs a relief, something light and frolicking like Catch Me If You Can to get the heavy stuff out of his system before he finds something for "the other side of myself" and to tell stories with social meaning.
I ask him what movies he wanted to make but somehow has yet to make them, he cites the quintessential robot movie. He would also love to do a song-and-dance musical.
Taking a cue from an audience question about balancing work and a family of seven kids, I jokingly ask if he had ever thought of remaking The Sound of Music. He says his kids would not want him to touch that classic because they love it so much.
Spielberg admits he is very much a family man. He relegated filmmaking to second priority when he started having children. But now they have all grown up and the youngest one has gone to college.
"My everyday life is really boring," he says. "Mostly writing and doing story boards."
His wife, Kate Capshaw, makes it interesting and "brings me to the world", he adds.
Contact the writer at raymondzhou@chinadaily.com.cn