Pingyao recruits top team for international film festival
Updated: 2016-10-09
( chinadaily.com.cn)
The Pingyao government met with director Jia Zhangke and Italian movie producer Marco Muller on Oct 1 as the county steps up its preparations for the Pingyao International Film Festival in October 2017.
Jia Zhangke updated officials on the current status of preparations for the film festival. The project has run smoothly so far and has received lots of investment from private institutes and companies. The festival will boost the local movie industry and help Pingyao become an industrial cluster for culture in North China, said Jia.
As an experienced film producer, Marco Muller also offered valuable suggestions on staging the event. In his opinion, the development of the movie industry calls for greater communication between Chinese and Western culture. Thus, the film festival should highlight Pingyao's unique cultural characteristics. He will help Jia's group develop a content plan for the event.
The local government, meanwhile, will help the director's team solve any issues that arise while preparing the event and will offer their support for the project.
"The big event will benefit tourism in Pingyao," said Shi Yong, head of the county. "We are cooperating with the professional group of Jia Zhangke to accelerate and improve the project."
The film festival project will involve constructing a cultural industrial park, which will house movie exhibition areas, art communities and a production studio, at the former site of the Pingyao diesel engine factory.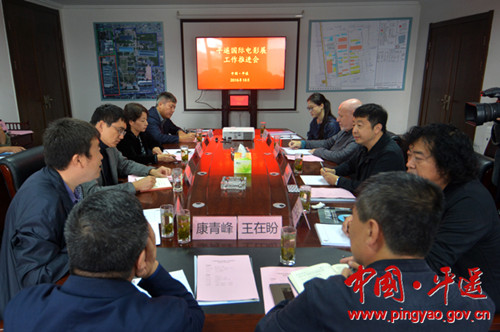 Pingyao officials hold a meeting with film director Jia Zhangke and Marco Muller, a famous movie producer from Italy, on Oct 7 to discuss the preparations for the Pingyao International Film Festival, which is to begin in October 2017. [Photo/pingyao.gov.cn]
Wantuo, a type of noodle from the Qing Dynasty (1644-1911), is one of Pingyao's local snacks with a long history.