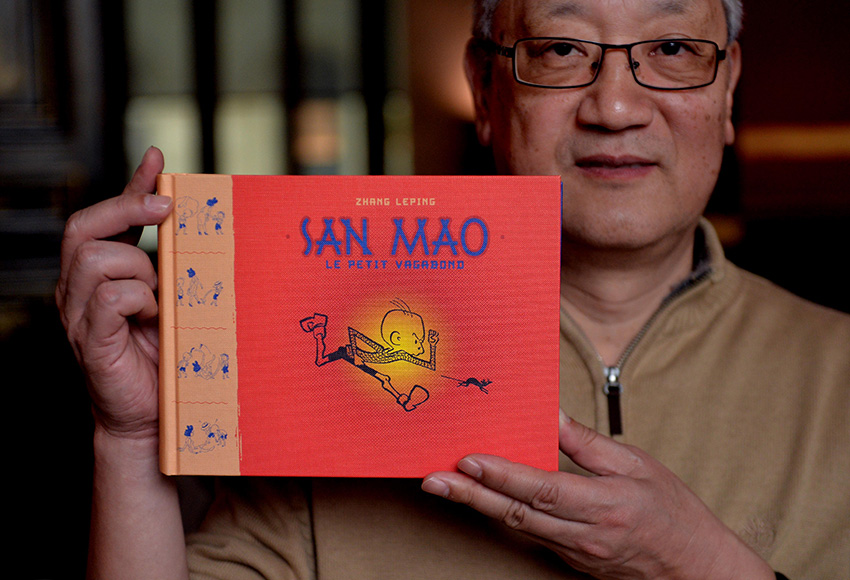 Zhang Weijun, the cartoonist Zhang Leping's son shows San Mao: Le Petit Vagabond. [Photo from Internet]
Zhang Leping's San Mao: Le Petit Vagabond won the Heritage Award at the 42nd annual Angoulême International Comics Festival on Monday.
In 1935 the cartoonist started to publish books that featured the orphan San Mao's stories and the series went on for more than a decade. It was popular among readers back then because it not only vividly captured how ordinary people suffered during the war but also tactfully satirized wartime society.
Although occasional words are used for captions, all the stories are told through pictures. San Mao, the skinny poor child during the 1930s, sold newspapers, polished rich men's shoes and did all sorts of odd jobs in order to survive in the comics. Zhang brought this character to life with his drawing talent, making San Mao a household name in China.
"That's why we hope San Mao can reach more audiences abroad just like the Belgian cartoonist Hergé's Tintin," Zhang Weijun, Zhang Leping's son mentioned his family's greatest wish to media before the festival.
During the award ceremony he added, "It's been 80 years since my father first created this character. I think he would be really glad to see this if he were still alive."
"San Mao is not just Chinese cultural heritage but also the world's," said Xu Gefei, the first Chinese to launch a comics publishing house in Europe. She is the one who decided to republish the French version of San Mao stories. The French version covers Zhang's works from 1946 to 1949 and has been sold in bookstores in France, Belgium, Luxembourg, Switzerland and Canada.
The book beat ten other contenders for the prize this year and won the heritage award.
The festival launched in 1974 as an event celebrating comics from countries throughout the world. This year the festival opened on Thursday, just weeks after 17 people, including five Charlie Hebdo cartoonists, were killed in terrorist attacks in France. The five cartoonists were awarded a special posthumous Grand Prix award.