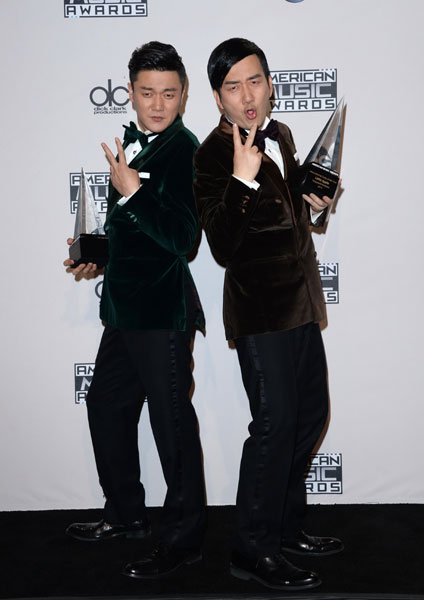 Singers Xiao Yang (left) and Wang Taili of the Chopstick Brothers pose in the press room at the 2014 American Music Awards at Nokia Theatre LA Live on Nov 23 in Los Angeles.[Photo/Agencies]
A high-profile award for Beijing's Chopstick Brothers draws the ire of some Chinese music fans, who say the duo's song is mediocre and represents poorly the country's pop culture. Chen Nan reports.
A war of words has erupted over the Chops tick Brothers, after the Chinese pop duo performed at the American Music Awards last month in Los Angeles - and won the international song award for their hit, Little Apple.
The Beijing-based duo, which comprises 34-year-old film director Xiao Yang and 45-year-old songwriter Wang Taili, was the first such Chinese act to be performed at the show and won an award there. However, the Chinese audiences watching from the other side of the world weren't cheering the duo's US debut.
Some netizens say the song is "nonsense" and their performance at the AMA was shameful. Some music critics frowned on the song for its "low artistic value", saying it should not represent China's pop music scene.
"Since not a single Chinese pop song has gained as much international popularity as Gangnam Style (Korean song), many songwriters and record companies in China have rushed to copy the success," Chinese music critic Hao Fang says in an earlier interview. "That's why we have so many low-quality songs, which just have repeating beats but no creative content."
The pop duo's lip-syncing and the fact that they received the award backstage (and their performance was only filmed during the gala's commercial break, not live) also stirred anger and controversy. Rumors even flew that the award was paid for by Youku Tudou, China's leading video portal and the pop duo's promoter.
"Of all the awkwardness of their performance at AMA, I think lip-syncing was the worst and their singing couldn't match the music," music critic Liang Huan says in an interview with Sina.com, one of China's biggest portals. "But thinking positively, Chinese pop music has at least received some attention in the West."
Related: Chinese Internet pop song wins at American Music Awards gala