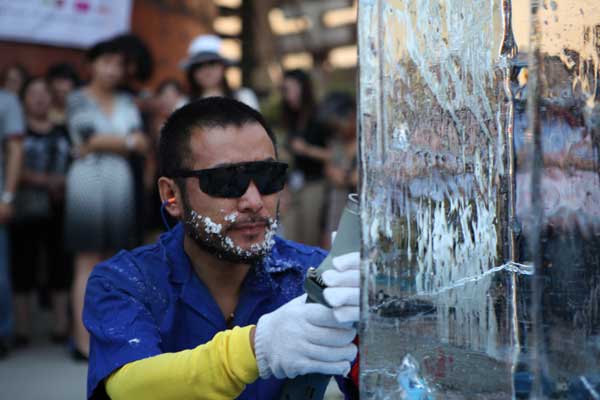 Liu Yang shows off his sculpting skills in creating an ice sculpture at his book-launch ceremony in Beijing. [Photo provided to China Daily]
Four years ago, Liu Yang left his job as a successful program planner, director and host with China Central Television to become a full-time sculptor.
Liu made the decision after attending an international sculpture symposium in South Korea. Such kind of symposium, first organized by Austrian sculptor Karl Prantl in 1959, brings together sculptors from around the world to produce public art for the host country.
He has since attended sculpture symposiums in 20 countries across five continents, and created more than 30 artworks. This month, Liu released a 290-page book, Walking on the Blade, published by China Water Power Press.
"Sculptor is the manliest occupation because we deal with stones and blades," Liu says, explaining the origin of the book's name. "I derive great fun and more satisfaction as a sculptor than as a media person."
In the book, Liu writes about his experiences at sculpture symposiums in nine countries in 2012, including France, Russia, India, Brazil and Turkey. He explains how the symposiums work, and how artists use tools such as chainsaws and electric drills to shape hard stones. The book includes dozens of pictures taken during the symposiums.
The book is also part travelogue. There are stories of his encounters with not just the artists at the symposiums but also people from all walks of life. In Turkey, for example, a local man with a thick beard stopped Liu on a street and called him Bruce Lee, telling Liu that he wanted to learn martial arts from him. Liu said the only thing he could teach him was tai chi.
Liu, who is married and has a teenage daughter, says Moscow has the most number of beautiful women of any city in the world. He spent his 40th birthday in Penza, one of Russia's most historic cities, and watched an impressive local dance together with other sculptors.
He also got close to the wonders of nature. In Nepal, he saw wild animals that he had only seen on television, including elephants and rhinoceroses. In India, he lived near nests of peacocks.
"The book is not just about sculptures. It is also about travel and coming into contact with different cultures," Liu says recently at a launch ceremony in Beijing for his book. "I want people to know more about sculptures, but I also want to share stories about my days abroad."
Celebrity TV presenter He Jing, who planned Liu's book, says it embodies one of the author's life principles, which is the pursuit of one's dreams instead of worldly benefits.