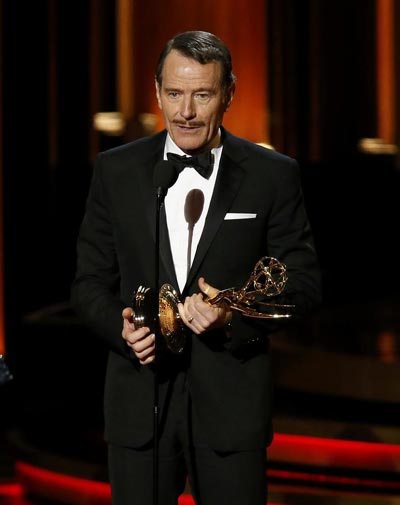 Bryan Cranston accepts the award for Outstanding Lead Actor In A Drama Series for his role in "Breaking Bad" during the 66th Primetime Emmy Awards in Los Angeles, California August 25, 2014. [Photo/Agencies]
The Good Wife star Julianna Margulies won the Emmy for best lead actress in a drama series.
"What a wonderful time for women on television," Margulies said.
Fargo was named best miniseries, and the award for best-miniseries actress went to Jessica Lange of American Horror Story: Coven.
Buffering the miniseries awards was a parody routine about top nominees by "Weird Al" Yankovic. Musical numbers usually look out of place at the Emmys, and this one was no different. Other scripted banter fell flat, although host Seth Meyers kept soldiering on.
CBS' The Big Bang Theory star Jim Parsons was crowned as best comedy series actor, giving him his fourth Emmy and putting him in league with all-time sitcom winners Kelsey Grammer and Michael J. Fox.
ABC's Modern Family, which tied Frasier as the all-time sitcom champ with five statuettes, also captured a best comedy supporting-actor trophy for Ty Burrell. Allison Janney was honored as best supporting comedy actress for CBS' Mom, adding to the trophy she'd already picked up as guest actress on Masters of Sex.
Julia Louis-Dreyfus, who received her third consecutive best-comedy actress Emmy for the political comedy Veep, drew big laughs as she stopped to exchange faux heated kisses with Cranston, who earlier was her co-presenter. Cranston had a recurring role in the former TV sitcom Seinfeld, of which Louis-Dreyfus was a star.
Meyers kicked off the ceremony by tweaking his home network, NBC, and other broadcasters for being eclipsed in the awards by cable series and online newcomers like Orange Is the New Black.
Noting that the Emmys moved to Monday night to avoid a conflict with Sunday's MTV Video Music Awards, he said that MTV doesn't really specialize in videos anymore.
"That's like network TV holding an awards show and giving all the trophies to cable and Netflix. That would be crazy," Meyers joked.