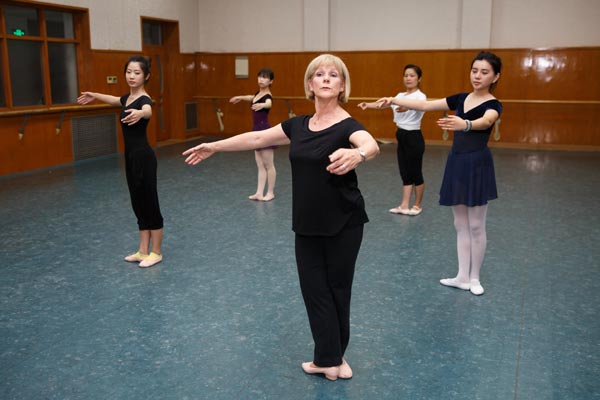 Vivienne Saxton, from the Imperial Society of Teachers of Dancing, gives a ballet lesson at the Beijing summer dance session. Photos provided to China Daily
International ballet teachers bring a new spirit of dance to young and old students in Beijing this summer, Chen Nan reports.
Ten-year-old Su Yingjun remembers the first time she could spin her body 360 degrees - staring straight ahead at the point where she started and feeling "like a superstar".
"When you swirl, you feel like the wind is coming to your face," her ballet teacher says - memorable words the girl would repeat after class. "I did feel what the teacher said," she told her mother, "and I felt like a real ballerina".
In late July, Su took a weeklong ballet class given by teachers from the Imperial Society of Teachers of Dancing. One of the world's leading dance examinations boards, the ISTD formed in 1904 and made its China debut in Beijing this year with a two-week dance school.
Besides ballet, the London-based organization offers courses covering six dance genres, from Latin American and street dance to modern theater and jazz. More than 150 students, including professional dancers and amateurs, adults and children, took part in the summer school.
For Su's mother, Gao Ying, traveling all the way from their home in Tianjin to Beijing to take the ballet class was worthwhile.
"The teachers' description about each movement is so vivid. It is neither about how straight your back is nor how high you can jump. It's about the enjoyment you have from dancing," says Gao, who took the adult ballet classes offered at the same time her daughter was in sessions for youth.