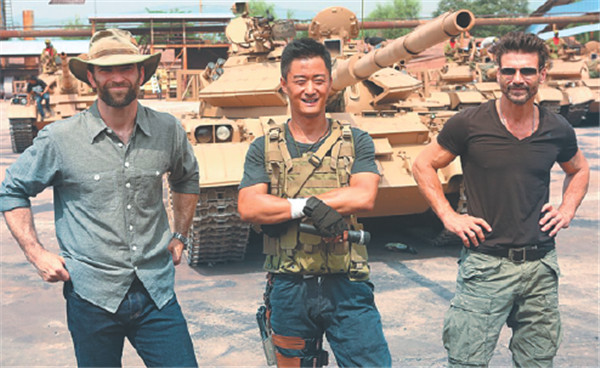 Wu Jing (center), director and leading actor of Wolf Warrior II, with Italian-American co-star Frank Grillo (right) and American stunt master Sam Hargrave at a filming site. [Photo provided to China Daily]
Fresh from shattering China's box-office record, blockbuster Wolf Warriors 2 has claimed another slice of history by becoming the first non-Hollywood film to break into the top 100 all-time grossing movies worldwide.
The action movie's plotline of Chinese soldiers saving war-ravaged Africans has resonated in China, and the film last week became the country's all-time top earner less than two weeks after its release.
The strength of those domestic receipts has now propelled the film onto industry monitor Box Office Mojo's all-time 100 list, where on Wednesday it knocked 1994's Forrest Gump from the No 100 spot.
Box Office Mojo said Wolf Warriors 2 had grossed $682.1 million worldwide, nearly all of it in Chinese cinemas.
But it looked likely to climb still further up the list-latest figures from the official China Movie Data Information Network said Wolf had already raked in 4.75 billion yuan ($710 million) in domestic sales as of Wednesday.
That would put it nearly another 10 places higher on Box Office Mojo's list, in the company of The Twilight Saga: Breaking Dawn Part 1, and Dawn of the Planet of the Apes.
With special effects, Wolf's stunts and explosions is worthy of Hollywood.
It depicts a Chinese former special forces operative's fictional foray into an unnamed African war zone to rescue compatriots and downtrodden locals from rebels and bloodthirsty mercenaries.
The movie is directed by martial arts expert Wu Jing, who also plays the lead role of Leng Feng, and a cliffhanger ending sets the stage for a third installment and another likely windfall.
This summer has also seen the release of the film The Founding of an Army, which chronicles the origins of the People's Liberation Army.
Wu said in an interview published Tuesday: "I've only taken a match and lit up people's patriotism with a spark."
Wolf Warriors 2 will have work to do to climb up to the top ranks of the list, which is headed by Avatar (2009) at $2.7 billion, followed by Titanic (1997) and Star Wars: the Force Awakens (2015).
AGENCE FRANCE-PRESSE