Hollywood hears wolf at door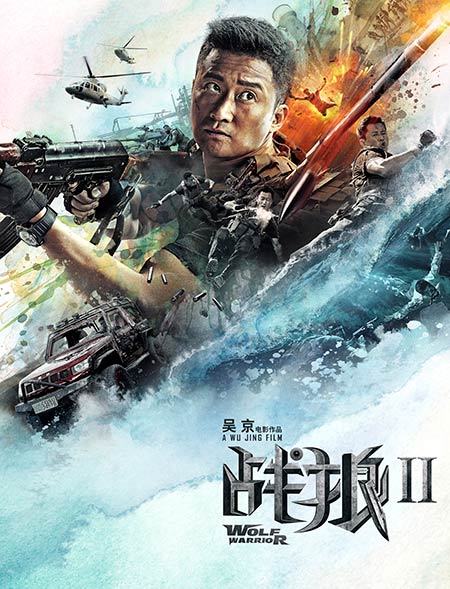 A poster of Wolf Warrior II [Photo provided to China Daily]
If Hollywood hears a wolf at the door, it may well be Chinese director-producer-star turned uber wolfpack leader, Wu Jing, whose recent effort, "Wolf Warrior II", has gobbled up the competition to become a genuine cultural phenomenon, not only in China, but also for Hollywood.
After shocked by the movie's performance in box office, raking in $650 million since July 28 to this weekend in China alone, some critics, like Film Journal International, contend that it's because "'Wolf Warrior II' is like a propaganda movie, with Leng even unfurling a Chinese flag at one point to assure safe passage through a war zone."
But more critics shrugged off the prejudice, just like the Rotten Tomatoes.com only gave the movie a 50 percent on their tomatometer while it scored 88 percent on their audience approval score.
"Like Sylvester Stallone before him, and John Wayne before Stallone, star Wu Jing has successfully exploited the crowd-pleasing potential of enhancing militaristic action-adventure heroics with a heavy dose of flag-waving patriotism," the Variety argued in the latest report about the movie published Friday.
"The big difference here, of course, is that the flag waved by Wu and others in this shoot-'em-up extravaganza is that of the People's Republic of China, and Wu's heroic Leng Feng is not a Green Beret, but rather a once and future member of his country's elite Wolf Warriors special ops unit," the report said.
Italian-American co-star, Frank Grillo, who compellingly plays the blood-thirsty mercenary antagonist, "Big Daddy", rebutted it as well, "It's Chinese nationalistic, not propaganda. It's no more propaganda than 'Rambo'."
Grillo, best known for his portrayal of famed Marvel comic book character, "Crossbones" in Disney's blockbuster "Captain America" franchise, sang Wu Jing's praises in an exclusive interview with Xinhua Thursday, "He's a special man who's got his finger on the pulse of what politically and emotionally charges his country. He understands China's Zeitgeist."
Wu also dismisses this criticism, while readily admitting his film is "a combination of a commercial action movie and a Chinese military propaganda movie." During a recent press conference, he angrily retorted, "Why is that a problem? America makes movies that promote the American spirit. Why can't I do that for China?"
And many of his countrymen agree. Though Wu may still be learning the narrative nuances that would enable his films to appeal to international audiences as well, Chinese audiences voted with their wallets, sending "Wolf Warrior II" snarling to a record-breaking first place as the highest grossing movie in China's history.