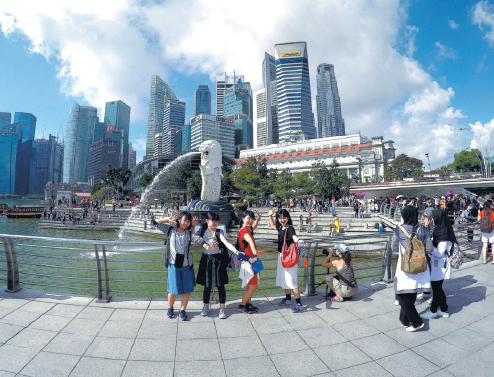 The Merlion is Singapore's landmark statue of a half-lion and half-fish. [Photo by Yang Feiyue / China Daily]
Its warm weather, sea breeze and fresh air make Singapore an ideal getaway for mainlanders fleeing the cold
The beauty of Singapore is that one can see all the country has to offer during a visit that is short and sweet. Its warm weather, sea breeze and fresh air easily make Singapore an ideal getaway for mainlanders, especially in winter, when many Chinese cities struggle with the cold or even smog.
On a recent three-day trip to Singapore, we go on a shopping spree and binge on food that is cheap and cheerful. We see glistening skyscrapers sitting next to each other along the riverside, while basking in the shade of lush plants in the botanic garden.
We sip coffee at a local cafe and enjoy the night life in a local bar.
Indeed, all these elements are rolled into this compact yet neat land that accounts for less than 5 percent of China's capital Beijing, the place we come from.
As a food aficionado, my first highlight comes when I enter the Tiong Bahru Market, whose second floor is a food court, which is ringed with assorted independent food stalls.
"There are many places like this, but this one offers authentic local cuisine," says Candy Yat, our tour guide.
"Also, the food here is cheaper than at some of its counterparts," says Yat.
The place is filled with restaurants, which offer dishes like oyster omelet, steamed rice cakes topped with preserved radish, braised noodles, and assorted dim sum stuffed with sticky rice or green beans.
Most of the dishes we order are priced between $1-3.
The Cheng Tng (clear soup) is one thing you must try. Don't be fooled by the somewhat tedious dark brown look of the soupy dessert, as all the treats are at the bottom. The soup is sweet but not cloying.