Chinese produced documentary 'The Tokyo Trials' honored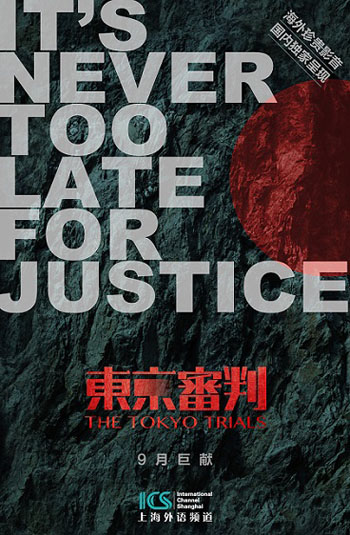 A poster of The Tokyo Trials [Photo/people.com.cn]
A documentary series "The Tokyo Trials" produced by Radio and Television Shanghai, has been awarded the title "Best Documentary Series" by Asian Television Awards in Singapore on Friday.
The awarded series, produced by an all-female group who once was honored by the famous American Emmy Awards, aired last year.
The documentary has three parts covering the Tokyo Trials, also known as the Tokyo War Crimes Tribunal, which tried the leaders of the Empire of Japan for three types of war crimes in 1946.
"The Smokeless War" overall introduced the Tokyo trials, focusing on three well-known trials.
"The Judgment beyond Winners" put a positive spin on the controversial parts of the trials.
The last part entitled "Unforgettable Memories" showed the hard steps from the perspective of the Chinese delegation and their children and grandchildren.
Many video materials collected from the US were seen in China for the first time, which are of high historical value.
He Qinhua, former principal of East China University of Political Science and Law, thought that the documentary showed Chinese research on the Tokyo trials having an international level.
The difficult process looking for evidences described by the documentary also strengthened that the trials focused on evidence, making the courts reasonable, he added.
2016 is the 70th memorial year of the Tokyo Trials' court open session. This year, a brand new series of the trials which has three parts has been finished and will be on air on International Channel Shanghai at 8 pm Beijing time.
The production group is considering to extend the documentary and to ten episodes by 2018.