Yann Arthus-Bertrand: What makes us human?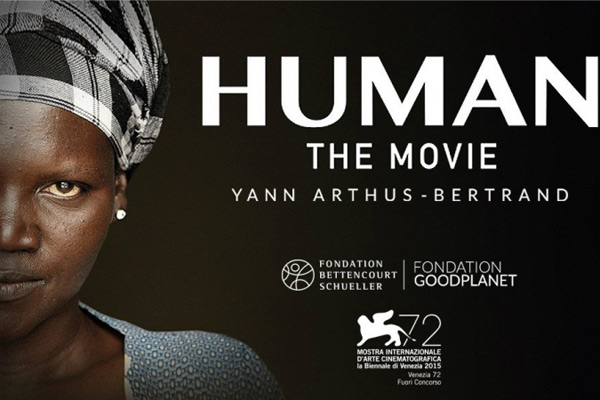 Poster of the French documentary Human. [Photo/Weibo]
"I am one man among seven billion others. For the past 40 years, I have been photographing our planet and its human diversity, and I have the feeling that humanity is not making any progress. We can't always manage to live together. Why is that? I didn't look for an answer in statistics or analysis, but in man himself."
—— Yann Arthus-Bertrand
As an integral part of the third Franco-Chinese Month of the Environment, French photographer Yann Arthus-Bertrand came to Beijing with his latest documentary Human in October.
Bertrand spent three years collecting stories from more than 2,000 people in 60 countries for the movie.
He considers himself as more a journalist than a director. Since he first started conceiving the film Human, he wanted it to be different and accessible to the widest possible audience.
To some extent, Human is more than just a film, as it strengthens social ties by promoting values such as living together, love, tolerance, and resilience. Through its multicultural nature, Human is ideally positioned to roll out in every country, in both commercial and non-commercial circuits.
Through a collection of stories and images of our world, it offers an immersion to the core of what it means to be human. Through these stories full of love and happiness, as well as hatred and violence, it also brings us face to face with others, making us reflect on our lives.
From stories of everyday experiences to accounts of the most unbelievable lives, these poignant encounters share a rare sincerity and underline who we are – our darker side, but also what is most noble in us, and what is universal.
Much of the movie is composed of close-ups and aerial photography. All the narrators sit tight in front of black curtain, their faces well lit.
From a Ukrainian soldier to a father who has lost his daughter in the Israeli-Palestinian conflict, from a condemned American prisoner to an African farmer, the director wants to capture the emotions and facial expressions of every single narrator. Each person looks like the subject of an oil painting - one of the aesthetic features of the movie.
Meanwhile, the director together with his team takes advantage of the state-of-the-art technologies to film the earth from above, offering a visual feast for audiences.