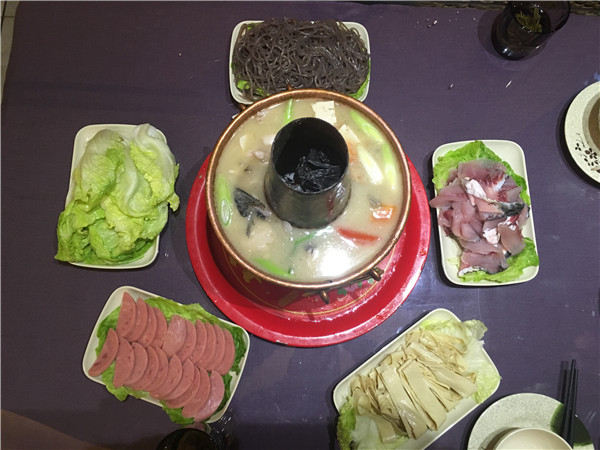 Fish hotpot. [Photo by Xu Xiaomin / China Daily]
Yunnan food has been my favorite among all the regional cuisines in China ever since I visited the province 11 years ago.
I've eaten at many restaurants that serve Yunnan cuisine in Shanghai and Beijing but have never been able to find one where the food tastes like those from the province. After all, many of the ingredients used in this cuisine are unique to Yunnan and are hard to preserve and transport.
When talking about Yunnan food, many diners will first mention the well-known ham and flowers used in the dishes. My recommendation, however, would be to try the dishes made using local wild vegetables that are only be available in Yunnan.
The first must-try dish is hai cai, or sea vegetable, which grows in lakes. This fragrant green vegetable has a smooth texture and a nice crispy and can be stir-fried with minced garlic or used in soups.
Another memorable vegetable dish choice is the xiao gua, or small melon. It is similar to vegetable marrow in Shanghai but is a little more chewy. Local people often stir-fry xiao gua with minced garlic and ham or bacon to achieve a good balance of flavors.