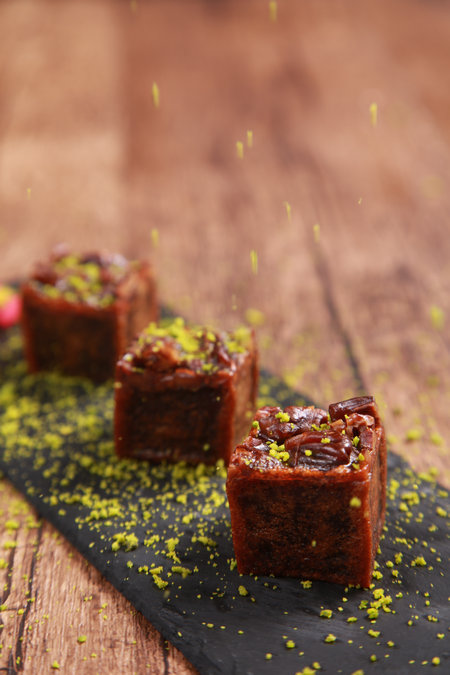 Walnut cake. [Photo provided to China Daily]
"In modern society, one's likes about food are different compared with before. For example, about 30 years ago, we all like oily dishes, but nowadays, the trend is to have light food due to concerns such as health," he says.
He says both hotel guests and other customers have access to the restaurant because it's located in a shopping mall.
One has to make a reservation at least one week in advance, and people often line up to get in.
"Our popularity proves that high performance-price ratio is in accordance with consumer expectations. It's a new trend, to target the masses with favorable price."
He says there are not so many business meals; most customers are young people and families.
"Our tableware adopts colors and styles that match our dishes-simple and clean, and to highlight the ingredients themselves. Only a bit ornament is sufficient, such as the patterns of lotus, lotus leaves and lotus pods."
Food is served on slabs of black stone or green porcelain to reflect the beauty of nature.
One of Yu's favorite parts of the decor: The big traditional porcelain teapots because they used to be a popular daily necessity of the locals, and they make guests feel nostalgic.
If you go
Cheng Zhong
2/F, 270 Qingchun Road, Kerry Center, Hangzhou; 571-8159-0555.