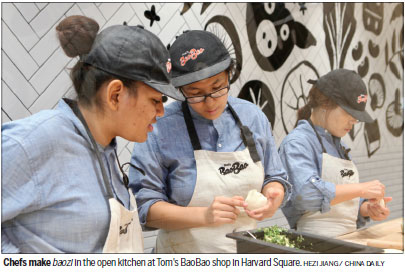 The cook slowly lifted the lid off a huge bamboo steamer. The delicate aroma of fermented flour came billowing out, like a magic cloud.
As the air cleared, 16 white buns came into view. The only way to find out what was wrapped inside was to take a bite and let the juicy pork fill your mouth or the lobster awaken your taste buds.
On a recent Tuesday afternoon, people stood in line to get their lunch from Hangzhou-based Gan Qi Shi restaurant chain's first overseas baozi shop in Harvard Square in Cambridge. The US chain adopted the English name of Tom's BaoBao.
"I used to grab burgers and Korean tofu soup when I needed a quick bite," said Wang Na, a Chinese graduate student at Harvard. "Now I get two baozi. They are healthier, and taste like home."
A fist-size baozi (pronounced bao-tz) costs about $3, with the exception of the $6 lobster bun, a variation created for New Englanders.
Ed Berger, a business consultant, stopped by the store after reading about Tom's BaoBao in the newspaper. He enjoyed both the juicy pork bun - the most ordered item at the store - and the sweet potato bun. "I'll definitely come back," he said.
Tom Tong, founder of the chain that now has more than 200 restaurants in China, first eyed Boston in 2014. "I was lured by its history and culture, especially the food culture," said Tong.
He sees Bostonians as serious eaters, and he wanted to do it right. It took him 20 months to open the shop.
The bamboo steamers were made of the finest bamboo from the Yangtze River Delta region. Tons of specialty flour were shipped from China because Tong couldn't find the right kind in the US.
"The fermentation has to be perfect. No more, no less," said Tong, who also sent six chefs back to China to learn how to make the perfect baozi.
To combat the harsh winters in Boston, Tong said, he invested heavily in steaming systems so the buns would stay warm.
The Harvard shop, which opened in July, has been a great success, and a second location in downtown Providence, Rhode Island, is scheduled for a soft opening on Friday.
"Like Cambridge, Providence is also a college town with foodies," Tong said.
He is planning on expanding the chain across the nation, "even to the West Coast," he said, "and we may franchise."
hezijiang@chinadailyusa.com