Grassroots delegate: Craftsman tackling new, tough projects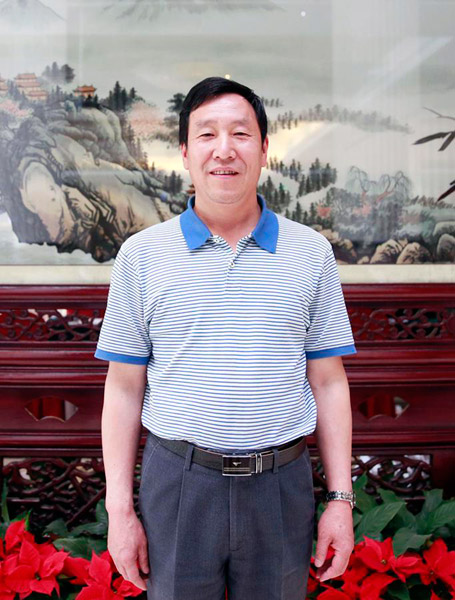 A file photo of Geng Jiasheng. [Photo/Xinhua]
Editor's note: In the lead up to the 19th Communist Party of China National Congress, which begins on Oct 18, chinadaily.com.cn is focusing on delegates to the congress.
Geng Jiasheng, 54, a national master technician in the manufacturing industry, is busy working on improvements for a new removable environmental protection toilet, a project he has been devoted to since last year.
"The removable low-waste environmental protection toilets have gone wrong after being installed on street. We are dealing with the problem," said Geng, a national model worker from the Yunnan Metallurgical Group.
The research and development of the toilet is a brand new mission for Geng.
"Previously, I was responsible for machinery manufacture," he said. "The transition to producing the toilet is pretty unfamiliar to me."
Yunnan Metallurgical, headquartered in the southwest of the province, has eyed the toilet as the key plank of a revival after hitting hard times in recent years. The company set up a group led by Geng in January of 2016.
"With a great sense of Party commitment, a mastery of technique and an eye for innovation, Geng is the only leader for this project. We trust him," said Xie Kailong, party chief of the company.
Geng isn't bothered by the responsibility. The heavy burden which falls on his shoulder pushes him harder to be successful.
Geng started the new job by researching using a borrowed schematic of the toilet for two weeks. Later, he and his group started experimenting, making use of Geng's ideas from the research.
The concept behind the toilet is utilizing bacteria to decompose feces efficiently. Geng's group has to find out which bacteria are useful, how large an amount will be used to speed the process and what kind of environment best suits the bacteria's performance.
"We have to collect fresh feces from toilets. I vomited heavily the first time. But Geng always put his bare hands into wastewater to check the samples," said Ma Zihui, who, being born in the 1990s, is the youngest member of the R&D group.
The company has chosen a new plant at the Yangzonghai area as the base to develop the toilet, but the new plant is about 50 kilometers away from downtown Kunming.
"Most employees are not willing to move so far. Geng took the lead in moving to this newly established branch. He is a model Party member," said Shi Yixiang, a member of Geng's group.
After more than one year's research, the low-waste environmental protection toilets developed by Geng entered mass production in April.
"It is the fourth generation that we have put into massive use on street," Geng said. "With high decomposing efficiency, the toilet can be used a maximum of 500 times a day."
Since being recruited by the company in 1984, Geng has been working for the company at all levels, rising from a common laborer sharpening lathe tools to an expert at numerous skills, such as lathing, boring, planing and polishing.
But Geng is not only a craftsman. He's also an innovator.
In 1993, the company was tasked with producing a type of tower crane. Geng and his workmates innovated to improve the process, leading to a more than three-fourths' reduction in costs. Since 2010, the team led by Geng has made more than 500 innovations and saved more than 1 million yuan ($150,000) for the company. Geng said he has close to 200 technical innovations under his name.
Geng's excellent performance has won him many honors, and this year he is a delegate taking part in the upcoming 19th Communist Party of China National Congress.

Editor's picks

Copyright 1995 - . All rights reserved. The content (including but not limited to text, photo, multimedia information, etc) published in this site belongs to China Daily Information Co (CDIC). Without written authorization from CDIC, such content shall not be republished or used in any form. Note: Browsers with 1024*768 or higher resolution are suggested for this site.
Registration Number: 130349