Grassroots delegate: A soldier from the PLA Rocket Force
Editor's note: In the lead up to the 19th Communist Party of China National Congress, which begins Oct 18, chinadaily.com.cn is focusing on delegates to the congress.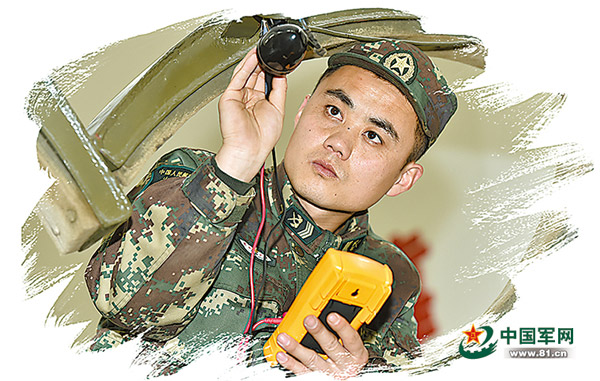 A file photo of Zhu Hongjun [Photo/81.cn]
Zhu Hongjun, an operator of the Rocket Force, is one of the 253 delegates elected from the People's Liberation Army to take part in the upcoming 19th Communist Party of China National Congress.
Serving the army for 17 years, Zhu has won numerous honors and titles, such as the first class sergeant of the army, top 10 squad head of the Rocket Force and top 10 excellent sergeant of the Rocket Force.
Soldiers, technicians and military officials have praised Zhu as a "soldier expert" for his deep theoretical knowledge of rockets and practical experience.
During a test launch, a problem occurred in the rocket, and two technicians failed to find the cause after checking it through the whole night, said Zeng Manjun, Zhu's brigade commander.
Before reporting the case to the senior officials, Zhu came for a simple check and climbed into the rocket where he reset two wires in darkness and fixed the problem in about 10 minutes, Zeng said.
"The best thing I have received from all these years is not the medals on my chest, but the recognitions from others," Zhu said.
"What I've been pursuing might seem look insignificant and ordinary. I want to keep working, to keep doing what I love, and to contribute to our army," he said.

Pursing dream
Zhu is 1.7 meters tall and weighs less than 60 kilograms. He was born in June 1982 in Heze, East China's Shandong province, joined in the army in Dec 2000 after graduation from middle school.
During his childhood, Zhu used to listen to his grandpa telling stories of the Red Army, and his name Hongjun is the Red Army in Chinese. He started to dream that one day he would join the army to contribute to the country.
After graduating from middle school, Zhu, who is not from a financially well-off family, joined the army. "I joined the army to ease the financial burden on my family, and to fulfill my dream."
Zhu submitted his first application to join the Party after the first three months military training. "After joining the army, I told myself that I would be a soldier who would listen to and follow the Party's orders," he said.
Three years later, his outstanding performance had finally made him a Party member.