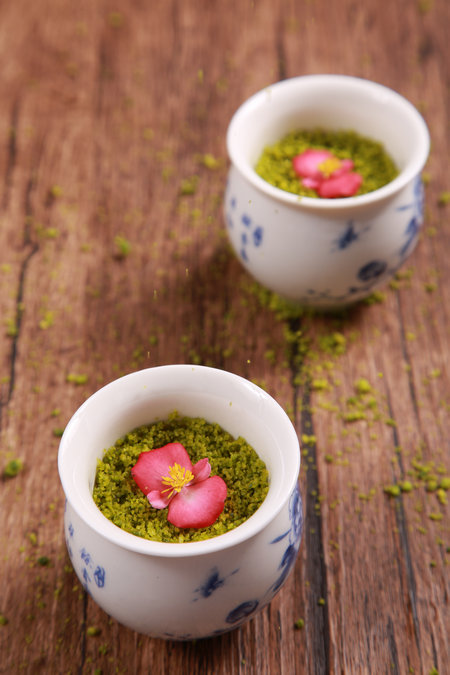 Cream pudding with Longjing tea sauce. [Photo provided to China Daily]
Only a few minutes' walk from picturesque West Lake is Cheng Zhong Restaurant, where foodiess can enjoy the classic dishes of the Hangzhou area as well as Cantonese-style dim sum. Innovative dishes and dim sum are prepared with local ingredients from Hangzhou, Zhejiang province.
"It's important to inherit the essence of the traditional food, while at the same time try something new," says Yu Feipeng, the Chinese executive chef. "It's also great value-for-money, with affordable prices for delicious cuisine."
The restaurant is in the Midtown Shangri-La, Hangzhou, but has a much lower prices than other restaurants of the brand's hotels, he says. The average cost here for one person is about 100 to 120 yuan ($15 to $18) for lunch and 130 to 150 yuan for supper.
He says his kitchen team tries its best to offer guests foods that contain good quality ingredients but few additives.
For example, monosodium glutamate is not allowed. Food is colored with natural ingredients such as green spinach juice and red yeast rice.