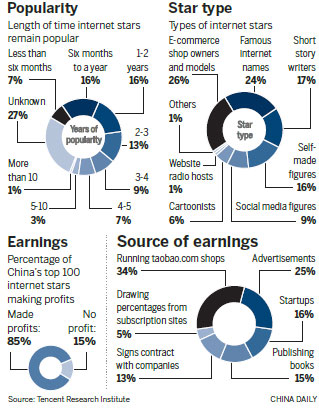 Streaming stars
Given the size, reach and pace of change in the industry, authorities overseeing it are struggling to keep up. Some live streaming platforms cross into controversy as a result of host behavior considered inappropriate or illegal, such as wearing overly skimpy attire, using lots of vulgar words or, in some cases, simulated or actual sexual behavior.
The Ministry of Culture has ordered more than 12 live streaming sites to make changes to comply with regulations. Several weeks ago, the State Administration of Press, Publication, Radio, Film and Television gave Papi Jiang a dressing down for using "swear words and insulting language" and ordered her to clean up her act.
The desire by online celebrities to milk their fame to the fullest may be because a cyberstar's shelf life seems to be relatively short. The Tencent report says that the online celebrity of half of those now enjoying it is likely to dissipate after only six months to three years, even though those with more staying power may remain for five years or longer.
Yang Ping, general manager of a Hangzhou incubator, says that as competition between online celebrities heats up, the critical thing will continue to be the quality of content. "Few are going to be able to project personalized, excellent content," Yang says. "As in other industries, only the top 20 percent will survive."
Da says: "Online celebrities are usually highly attractive physically, but that's not enough. The best are those with strong personalities who are innovative, hardworking and talented, and those who are excellent communicators. They're the sort of people who will pose numerous times just for one shot that is going to be placed online. Having something unique to offer as well as a personality will be the key to survival."
Even for Papi Jiang - as commenters note that "aesthetic fatigue" for her videos is starting to creep in - finding a workable business model and sustainable popularity will still remain a question, he says.
Tang Yue contributed to this story.