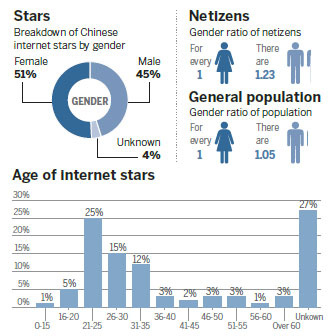 Fang Qihe, a blogger and Taobao shop owner in Shenzhen, Guangdong province, is one of those who puts on stylish garb, takes photos of herself and posts them online. She now has 490,000 followers, and about 50 to 80 percent of what her Taobao shop sells is snapped up by that entourage.
"We're selling about 350,000 yuan of product a month, but I've got a support team now, and I expect that eventually the monthly sales figure will rise to 2 million yuan," she says.
In the apparel industry in China, online celebrities are responsible for sales worth 100 billion yuan a year, according to Guotai Junan Securities. Taobao says more than 1,000 shops connected to online celebrities who hawk women's clothing each have a sales revenue of more than 1 million yuan a year. Of the top 10 online women's clothes shops, seven are connected to online celebrities.
Another large group of online celebrities consists of those who perform on live streaming sites. Against decorated backdrops in various styles, the central character may sing, dance, play games or tell jokes. These online celebrities' income is derived mainly from gifts and money sent through the website by fans.
Xia Keke, 22, a performer on YY.com, a live broadcasting platform, says that since she got into the business, June 2014, she has made more than 5 million yuan as an entertainment host - singing, dancing, telling jokes and leading viewers in playing online games.
The Ministry of Culture says about 200 million people in China use online live streaming, and that at the busiest times 3,000 to 4,000 rooms are streaming simultaneously, with a combined viewership of between 2 million and 3 million. There are more than 200 live streaming platforms, and the ministry says the industry was worth about 7.77 billion yuan last year.
Others who are cashing in on online fame include many who do not show their face, but provide entertainment or information in the form of novels and other written content, astrological advice, cartoons or stock market analyses. They also give expert opinions or advice on talk shows or spread gossip about other celebrities. This group of online celebrities is the largest but also the most difficult to pin down since their business models usually are not well developed yet and they are widely dispersed in cyberspace. But they also have great potential commercial value, Da Shan says.
The many ways online stars can cash in show that the online celebrity economy has begun to run in a more cohesive, organized and professional way, the emerging online celebrity incubators and agencies say.
Moreover, as online celebrity becomes more mainstream, those who have gained fame in more conventional ways are increasingly turning to social media to keep in contact with their fans, and they, too, are beginning to develop online personalities.
More than 10 million viewers watched a live-streamed online games contest featuring musician, record producer, director and actor Jay Chou, who is famous throughout Asia, and controversial figure Wang Sicong, known for buying his dog two gold Apple Watches. He is the son of Wang Jianlin, one of China's richest men and chairman of mainland property and entertainment conglomerate Wanda Group.
"The boundaries between online celebrities and other stars will increasingly blur as more stars will need to get online to communicate more with their fans, and more online celebrities will be able to attract advertisers and become involved in films and so on," Da says.