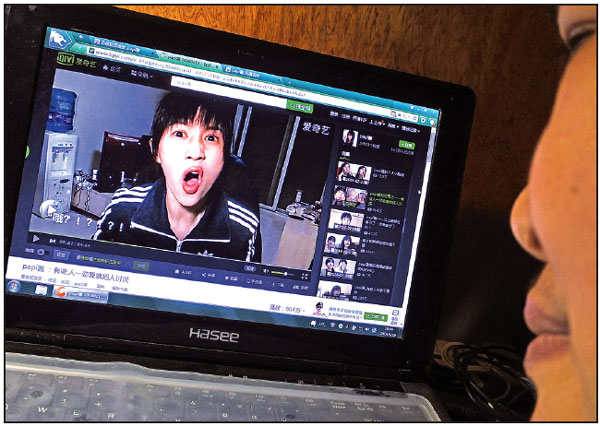 Papi Jiang attracted venture capital of 12 million yuan in March. [Photo provided to China Daily]
Trying to make a name for oneself on the internet, either in China or elsewhere, is not exactly new. But it is only in recent months in China - particularly through Papi Jiang - that the tremendous commercial value of these celebrities has begun to crystallize in the public mind, and more talent, investors and capital are beginning to pour into the market.
"The way that mass-market art and cultural and entertainment content used to be created, managed and distributed is giving way to a model in which the internet plays a central role, and it is the internet that is turning into the great moneymaker," Xue says.
Online celebrities in China have far more opportunities than their overseas counterparts because of the sheer scale and diversity of Chinese sites in their many manifestations, whether it be e-commerce, social media or something else. It has produced many more ways in which they can make a name for themselves and then turn that into cash.
When Chinese people used to think about online celebrity, by and large they pictured porcelain-faced young women, but now the idea has been stretched to take in any number of people who have a huge following on the internet, according to Da Shan, founder of Today's Online Celebrity, a WeChat public account devoted to analyzing China's online celebrity economy.
"My feeling is that many people used to have a slightly condescending attitude toward online celebrity," Da says. "But since Papi Jiang appeared, it has become a cultural and economic phenomenon."
Today's Online Celebrity recently published a report about the potential commercial value of such celebrities, measured by number of followers, and the influence and business model of the platforms on which they are active. The online celebrity market, still in its infancy, could be worth hundreds of billions of yuan, Da says. The potential worth of the most valuable online celebrity, the online writer called the Third Master of the Tang Family, is put at 1.47 billion yuan.
The most eye-catching group of online celebrities - who have a whole sales and production team for goods they hawk to online fans as part of their business model - are those closely connected with China's e-commerce companies, such as Alibaba's Taobao. Pictures or videos of these celebrities - and they are almost without exception attractive young women who dress to the nines - appear on social media, accompanied by advice for their followers on subjects such as choosing the right clothes and the right cosmetics. The brands behind the pictures then parse and weigh fan feedback in the form of product orders as they start to roll in before deciding how much more to produce for their linked Taobao stores.
In this case, you can forget the idea that a Little Miss Nobody working alone, crouched over an old computer in a shed in a village, is behind all this. Instead, most of these celebrities have a savvy back-up team that helps them in their business dealings and with the content they post.
The woman that is the face of the operation usually also deals with an incubator or agencies that connect her with manufacturers, suppliers and advertising agencies and guide her in maintaining, or if need be changing, her image so as to keep followers loyal, says Yang Ping, general manager of an incubator of online celebrities in Hangzhou.