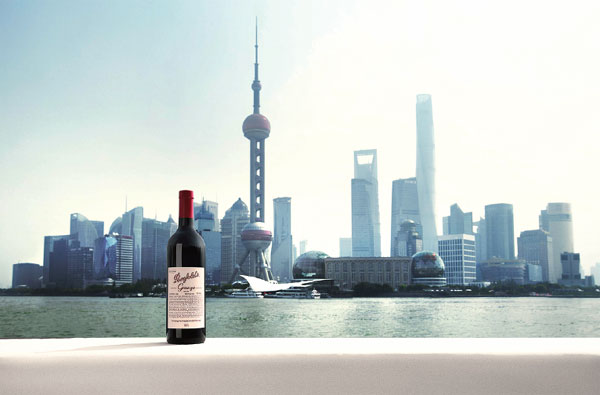 Penfolds Grange is one of the TWE wine lables on sale in China. [Photos Provided to China Daily]
Streamlined distribution is putting good drops from Down Under within reach of Chinese buyers.
An Australian global wine conglomerate is at the forefront of a new way of selling wines in China, one that cuts out intermediaries and takes wine boxes from vineyards and puts them straight into the hands of retailers.
Treasury Wine Estates says that this year it will continue with what it calls its route to market strategy, which it introduced to China last year, paying handsome dividends in increased sales and market strength of what it calls its priority brands.
Because TWE is a pioneer in this technique of wine brand building in China, its moves are being monitored by other sizeable wine producers and by industry professionals.
Peter Dixon, TWE's general manager of North Asia, says its brands such as Penfolds and Wolf Blass are well placed for continued strong growth.
As part of the distribution scheme, TWE signed direct deals with the Chinese online retailers JD.com, and Amazon China, and with supermarket chains such as Yonghui Superstores based in Fujian province.
In its annual report for the financial year ended last June, TWE said its sales in China, including Hong Kong, Macau and Taiwan, had risen 36 percent over the year, a success it attributed to the new strategy of selling wines more directly to consumers.
TWE said in the same report that "declines in Australian bottled wine sold in China in 2014 was driven by government-imposed austerity measures".
Dixon says that since last year the group has been building a national network of wholesale partners based on geography to reach different customers not limited to first-tier cities, but all across China.
Maxime Lu, a wine industry commentator, says: "Some foreign producers have adjusted to get away from an exclusive China importer and to enter the market themselves. TWE is good at tailoring the portfolio of brands and products based on market demand. There may be competition among different brands under its own umbrella."
Dixon says TWE's strategy this year is to work with the most effective partners in each channel such as retailers, wholesalers and e-commerce dealers.