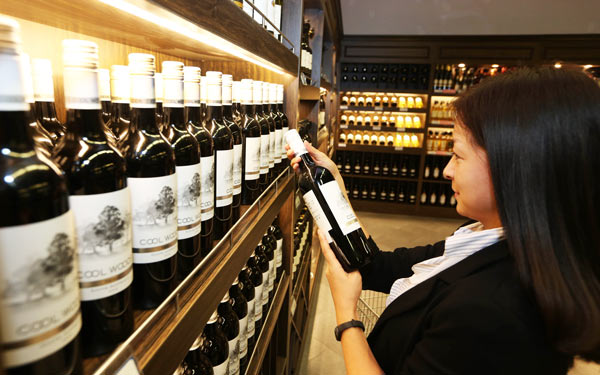 A woman checks a bottle of imported Australian wine at a tariff-free zone in Nantong, Jiangsu province. [Photo/China Daily]
Ready to get heady, China's growing middle class finds new ways to fill the glass
Wines from the New World-countries such as Australia, New Zealand and Chile-are growing a presence in the recovering market in China.
For instance, Treasury Wine Estates, Australia's largest winemaker, is cashing in on the demand for good-value drinks in China.
Robert Foye, TWE's managing director for Asia, Europe, the Middle East, Africa and Latin America, said the company expects to make its brand Wolf Blass the top imported wine by sales volume in China within five years.
Wine appreciation, he said, now marks the modern lifestyle of the growing middle class in China. "Awareness and demand for New World wines have definitely been on the rise in the past decade, which we expect to continue to grow in the coming time. In fact, we believe the love for wine has just begun in China."
TWE has seven brands in China, including Wolf Blass, Penfolds and Beringer. Wolf Blass has recently announced a partnership with basketball league body NBA China, which will allow the company to reach more than 330 million potential wine consumers in the country.
After significant decline in volume growth since 2012 due to the impact of the government's anti-extravagance campaign, the wine market is finally showing signs of recovery, especially with imports growing. Domestic brands are facing fierce competition in the mid-range, according to a report in October from Mintel Group Ltd, a United Kingdom-based consumption consultancy firm.
China is the world's largest wine-buying country. Double-digit growth marked imports in the past five years, according to industry data.
After a sharp fall from 18.7 percent year-on-year growth rate in 2012 to 1.4 percent in 2014, volume growth in the wine market in China is estimated to bounce back to 4.6 percent in 2015, said Mintel.
Consumers in China are relatively open to new choices, said Foye. "They have high interest and curiosity in trying different wine products, so they are willing to try New World wines.
"Despite sales slowdown in very high-end wines, people have switched to products with a higher price-performance ratio but also of a reputable and consistent quality."
Foye said the demand for imported New World wines is still extremely high and the local wine market is just beginning to tap the unharnessed potential.
Carrie Huang, a management executive in Shanghai, said she buys 12 bottles of wine a month. She prefers wine from the New World. Its labels in English clearly explain the constitution of the wine and the taste. This, she said, helps her to select the wine of her choice.
She said New World wine taste is direct and simple compared with the complicated attributes of wine from the Old World-mainly wine-producing countries in Europe. "Since I spend my own money on wine, I choose wine that gives value for money."
The main wine distribution channels in China are supermarkets, hypermarkets, convenience stores and online retailers. TWE has signed distribution deals with select online retailers in China such as JD.com Inc, Alibaba Group Holding Ltd's Tmall and wangjiu.com.
"E-commerce is an important channel for us to expand the distribution of our wines beyond first-tier cities into the hands of consumers that rely on online shopping in the second- and third-tier cities," said Foye.
The company is also leveraging social media platforms such as WeChat and Weibo to reach consumers and ensure social media engagement.
However, the challenge for TWE is that wine drinkers in China switch from one variety or brand to another rather quickly.
It is also keen to capitalize on the "premiumization effect" in which drinkers move up its brand portfolio as their incomes grow and knowledge of wine increases, said Foye.