1.Supply-side
While expanding the overall demand at a reasonable pace, China will pay more attention to structural reforms on the supply side and implement coordinated policies, according to the country's economic blueprint for 2016 released during the Central Economic Work Conference.
"'Supply-side' reform means to promote competitiveness and bolster economic growth through supply and production end and unleashing productivity. The core is to increase total factor productivity.
"Supply problems in fact lie in the structure. Therefore, structural adjustment should serve as its core issue. The Political Bureau of the Communist Party of China (CPC) Central Committee earlier specified at a conference that, the supply-side reform requires multi-dimensional promotion in the innovation-driven development strategy, actively yet prudently carrying forward the natural selection of the fittest enterprises, lowering corporate costs, destocking housing inventory and in ensuring effective investment."
- Xie Taifeng, professor of Capital University of Economics and Business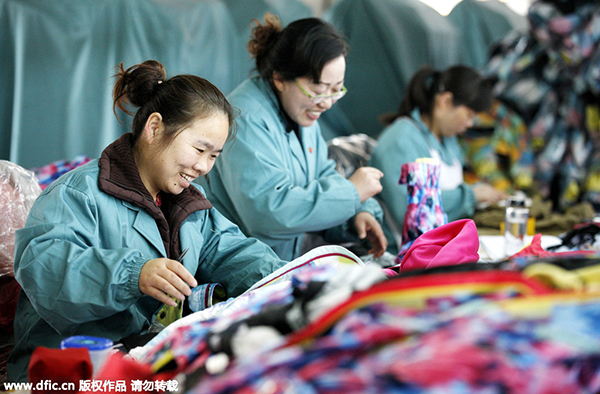 Workers manufacture garment that will be exported to the European Union in Huaibei city, Anhui province, Dec 8, 2015. [Photo/IC]