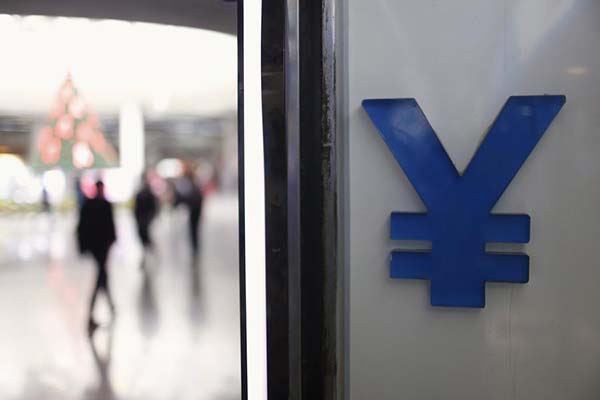 A logo of yuan is seen at a foreign exchange store in Shanghai, China, Dec 1, 2015.[Photo/Agencies]
The renminbi fell to a five-year low against the US dollar on Wednesday after latest statistics indicated weaker-than-expected economic growth momentum.
The People's Bank of China cut its daily reference rate for the seventh day in a row to 6.5314 renminbi to the dollar, the weakest level since April 2011.
In Shanghai, the currency was traded at 6.5464 as of 11 am, down 0.44 percent.
The offshore yuan fell 0.3 percent to 6.6649 a dollar in Hong Kong market at one stage, according to Bloomberg, with the quote 1.9 percent weaker than the onshore exchange rate.
The fall is set to continue through 2016, Lu Zhengwei, chief economist with Industrial Bank, told Shanghai Securities News, adding that renminbi could depreciate as much as 15 percent to about 7.3 a dollar.
The real effective exchange rate of the yuan has been overvalued and reforming toward a more market-driven exchange rate forming mechanism should be China's priority, said Lu. The onshore market currently allows the currency to diverge from a central bank fixing by a maximum of 2 percent.
The Caixin General China Manufacturing Purchasing Managers' Index, an indicator of manufacturing activity, edged down to 48.2 in December from 48.6 in November, according to the latest survey conducted by financial information service provider Markit.
Chen Jia contributed to this story.