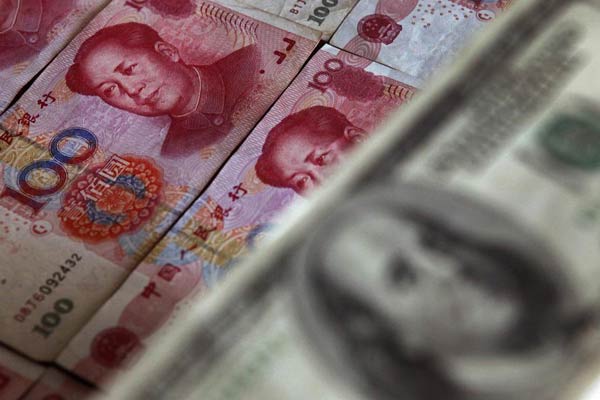 A photo illustration shows a $100 banknote placed above Chinese 100 yuan banknotes in Beijing in this May 10, 2013 file photo. [Photo/Agencies]
BEIJING - China is to extend the trading hours of the interbank forex market by seven hours and allow more foreign entities into the market, according to a Wednesday statement by the People's Bank of China (PBOC).
From Jan 4, the closing time for interbank foreign exchange market will be extended from 4:30 pm to 11:30 pm Beijing time, with the opening time unchanged at 9:30 am.
Despite the extension of trading hours, the closing rate of the yuan against the US dollar will still be the spot quotation at 4:30 pm. because relatively poor liquidity at night may cause big fluctuations, leading to a less representative closing price, the PBOC explained.
International and regional banks doing large yuan business will be able to trade products including spots, forwards, swaps and options on China's interbank market, but cannot be market makers for the time being, the statement said.
The central bank's allowed foreign central banks, sovereign wealth funds, and international financial institutions into the market on September 30.
The extension of trading hours and expansion of foreign entities in the market will close the gap between the onshore and offshore yuan exchange rates, the statement said.