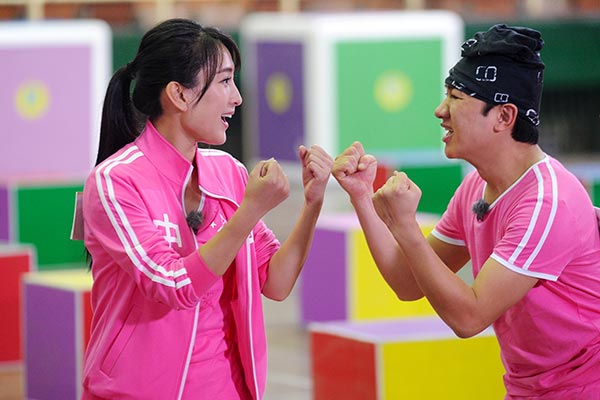 A scene from the shooting of an episode of the Running Man, featuring actress Ma Su and TV comedian Wang Zulan.[Provided to China Daily]
TV shows featuring celebrities are banding channels, producers, advertisers and audiences together
Reality shows are popular all right, but those featuring celebrities are proving to be a rage, not just among television audiences but advertisers and program sponsors. And producers who are investing big bucks are not complaining at all.
Nor are celebrities themselves. Rather than portraying fictitious characters, celebrities seem to enjoy the idea of playing themselves, showcasing their personality. And their fans in particular and audiences in general seem to love it too. It seems there never ever was another win-win-win-win-win-win like this one.
Take, for instance, Hunan TV's Dad, Where Are We Going?, which features celebrity fathers taking their children on three-day trips to idyllic towns or villages, far away from urban areas, without mothers and helpers in tow. The show's third season started in July soon after the hugely successful first two seasons got millions of viewers aged eight to 80 hooked.
Sponsorship of such popular shows does not come cheap. Inner Mongolia Yili Industrial Group Ltd, China's leading dairy producer, shelled out 500 million yuan ($77.15 million) for Season 3, exceeding the 312 million yuan it paid for Season 2.
Season 1, which aired from October 2013, sold main sponsorship rights for only 28 million yuan to a pharmaceutical brand.
The 500 million yuan deal for Season 3, reached in 2014, accounted for 14.1 percent of the dairy producer's net profit in the first three quarters of last year.
Yili's faith in the program seems to suggest it may have benefited from the sponsorship by way of rise in sales and better brand visibility, Jian Aihua, a food industry researcher with the Shenzhen-based CIC Industry Research Center, told the National Business Daily newspaper.
One reason could be that groups like young people and mothers-to-be are the target consumers of Yili as well as the target viewers of the reality show.
The phenomenal successes of Dad, Where Are We Going? and other reality shows such as The Voice of China have spurred a series of reality shows. For instance, Hunan TV introduced Divas Hit the Road, Season 1 in April of last year. Zhejiang TV started Running Man, Season 1 in October 2014. Shenzhen TV introduced The Amazing Race, Season 1 at the same time.