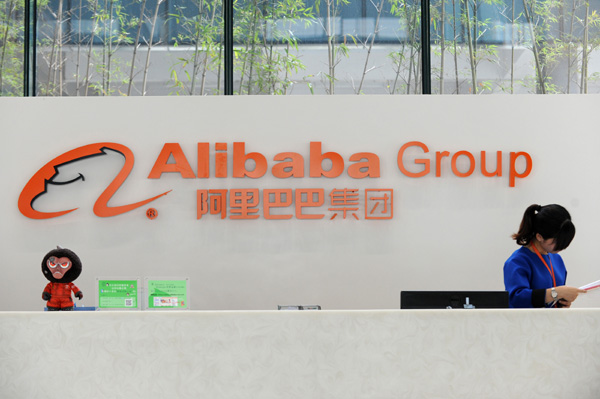 A receptionist works at Alibaba's headquarters in Hangzhou, capital of East China's Zhejiang province, Jan 30, 2015. [Photo/Xinhua]
E-commerce giant Alibaba Group Holding Ltd said on Wednesday that it would continue to make more investments to boost its presence in rural areas.
The company, which announced a 10 billion yuan ($1.54 billion) rural investment plan, is considering more steps to improve the living conditions of farmers, said Jack Ma, chairman of the group.
Alibaba launched its first "Stocking for China's Lunar New Year Festival" program at an e-commerce summit in Yan'an on Wednesday. The program enables farmers to sell their agriculture products in cities through the Alibaba platforms.
"Modernization of agriculture is key to China's economic growth in the next two decades," Ma said. "Making full use of the Internet, including big data, to help farmers out of poverty is a smart strategy."
He said the program is aimed at tapping the entrepreneurial potential of the about 1 million rural migrant workers who return from the cities to their home villages to start their own businesses.
This is not the first time that Alibaba is attaching such importance to agriculture and rural networks. In October 2014, the company said it would spend 10 billion yuan in the next three to five years on 1,000 "operational centers" in counties and up to 100,000 "service outlets" in villages.
Under the company's rural marketing strategy, the group is targeting rural people as potential buyers and sellers.
Sun Lijun, vice-president of Alibaba, who is in charge of the rural plan, said the company has established rural retail networks in 23 provinces and autonomous regions.
"We spent money mainly on three sectors: Infrastructure construction such as service centers, logistics network and talent training," he said. "The biggest investment is in people. We have to make great efforts to train talent who have the enthusiasm and ability to work in rural areas with e-commerce knowledge."
He said the 10 billion yuan investment is far from enough and the company will keep investing in this sector.
Zhong Yanhai, partner of a rural service center in Fujian province, said the center will not only help farmers sell agriculture products in cities, but also help those who do not know how to use the Internet to buy what they want online.