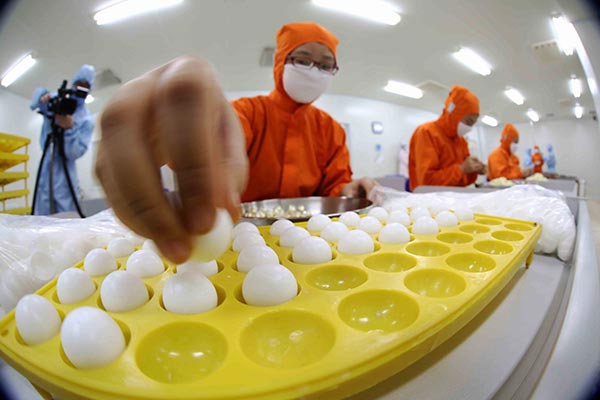 Employees arrange pills at a workshop owned by Beijing Tong Ren Tang Group Co Ltd, a traditional Chinese medicine maker.[Photo/Xinhua]

Companies ride the crest of success as govt reiterates support
Traditional Chinese medicine makers are expanding their presence in the global markets in a big way, as the government reiterated its support to further strengthen the sector.
Guangzhou Baiyunshan Pharmaceutical Holdings Co Ltd, the largest patent drugmaker in China, is setting up a 200 million yuan ($30.87 million) fund to expand its overseas TCM presence in the next five years, according to company officials.
The fund will be mainly used for the overseas registration of TCM products, global market operations and international cooperation, said Wang Wenchu, deputy general manager of Guangzhou Baiyunshan.
The Shanghai-listed company has already made a good start by signing a cooperation agreement with a Nigerian company last month. The deal was inked by Guangzhou Wanglaoji Great Health Industry Co Ltd, a Baiyunshan unit which focuses on herbal tea.
Wanglaoji tea is currently sold in more than 50 countries and regions, with sales totaling more than 20 billion yuan in 2014.
Buoyed by reports that the sector would get more support from the government, its shares rose by 0.16 percent to 31.98 yuan on Wednesday.
Beijing Tong Ren Tang Group Co Ltd, a time-honored TCM producer, is also expanding its global presence, said Ding Yongling, deputy general manager of group.
Tong Ren Tang already runs 115 medicine stores in 25 countries and regions, said Ding, adding that the company may consider more acquisitions in overseas markets like local medicine stores, clinics and other TCM companies.
During the first three quarters of this year, Tong Ren Tang posted revenue of HK$715.4 million ($92.3 million) from its overseas operations, a 33.2 percent year-on-year growth.
Like Baiyunshan, Tong Ren Tang shares also were in demand on bourses. The company's shares rose by 0.51 percent to 41.31 yuan on Wednesday in Shanghai.
The latest support commitment from the government comes close on the heels of the draft of China's first TCM law being discussed by the Standing Committee of the National People's Congress.
The law will help TCM companies provide more products to patients globally, said Liu Shengping, an analyst from Guolian Securities Co.
Earlier this year, Chinese scientist Tu Youyou won the 2015 Nobel Prize for medicine for her work on artemisinin, an anti-malarial drug, extraction from sweet wormwood, a traditional Chinese herb.
Though the award boosted the global standing of the TCM sector, it should not be seen as global acceptance of TCM, said industry experts.
Tong Ren Tang opened its first medicine store in Stockholm, Sweden, a day after Tu Youyou received the prize on Dec 10. A week later it opened another store in Prague.
But there are still some challenges for China's TCM firms to go global because of the cultural and policy differences.
Unlike ordinary goods, the biggest obstacle for TCM firms in overseas markets is the limit registered medicines, said Liu Zhanglin, deputy director of the China Chamber of Commerce for Import and Export of Medicine and Health Products.
"TCM firms must turn to innovation to cope with the growing challenges," Liu said.