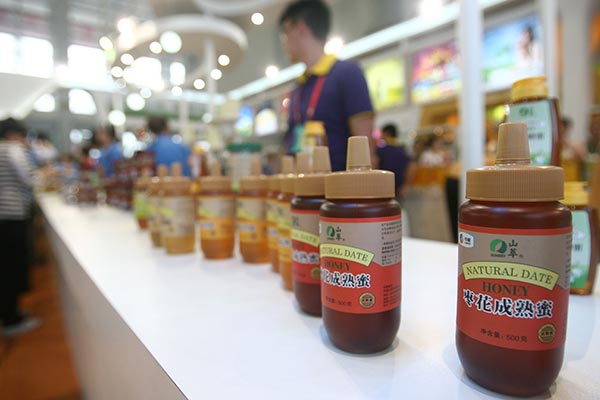 The stand of COFCO at an industry expo in Ningbo, Zhejiang province.[Provided to China Daily]
State-owned China National Cereals, Oils and Foodstuffs Corp is taking full control of Noble Agri Ltd, after buying the remaining 49 percent of the company still owned by Noble Group, the Hong Kong-based global supply chain manager.
Its subsidiary COFCO International Ltd will acquire the stake for $750 million, and on completion, Noble Agri will have its name changed to COFCO Agri.
COFCO bought 51 percent of Noble Agri in 2014, and since then has been actively engaged in resource consolidation to optimize asset allocation and boosting its profitability, Chairman Ning Gaoning said in a statement.
The takeover would greatly accelerate COFCO's internationalization and global positioning, Ning said Tuesday, adding he is confident its management team would deliver long-term performance once it is integrated into the group, despite the current depressed global agricultural commodities market.
Established in 1998, Noble Agri is engaged in trading and processing farm products mainly sourced from low-cost regions around the world, and supplying them to Asia and the Middle East.
Last year's sales were $14.9 billion from 46 million metric tons of goods delivered to 45 locations in 29 countries.
Noble Agri's main grains business deals in wheat, corn and soybean, while its other leading earners include coffee, cocoa, sugar and cotton. It owns and operates a number of logistics and processing assets in key markets, and employs 9,500 people globally.
The statement said that 100 percent ownership of Noble Agri would allow COFCO to further optimize the group's global value chain by linking the two companies' upstream sourcing and trading operations with downstream processing and distribution capabilities.
Matt Jansen, CEO of Noble Agri, said: "The consolidation of our ownership is a strong step toward our guiding vision of being a multi-flag, world-class global agri business.
"Our global reach and operations in 29 countries and regions will help us reach that goal."
Ding Lixin, a researcher at the Chinese Academy of Agricultural Sciences in Beijing, said taking full ownership of the business would enhance COFCO's ability to buy oilseeds, corn, soybean and edible oils, especially from South America, Australia and Europe, as well as further ensure grain security in China.
Ding said the deal also highlighted Ning Gaoning's efforts to secure ownership of more agricultural products overseas, given the constraints on domestic production and dependence on imports, especially for soybean and wheat.
In February 2014, COFCO spent $2.8 billion on a 51 percent stake in the Netherlands-based grain trader Nidera BV.