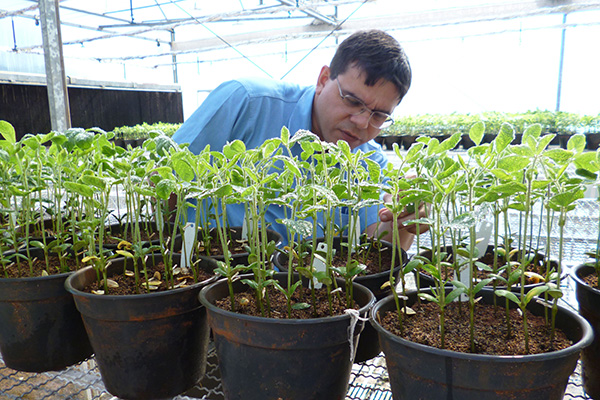 A COFCO seed center in the Netherlands. The company has more than 10,000 employees from more than 70 nations and regions working in overseas markets. [Photo/Xinhua]
China National Cereals, Oils and Foodstuffs Corp, the country's largest food trader, is to enhance its information collection, logistics, food-processing and infrastructure development abilities to better compete with established rivals in the global market.
Ning Gaoning, chairman of COFCO, said China's food security needs an integrated and comprehensive approach that includes international mergers, acquisitions, cooperation, facility development and education.
COFCO has more than 10,000 employees from more than 70 nations and regions working in various overseas markets, mainly in Asia, Latin America and Europe. It plans to further improve its capability in maritime transportation and food processing, as well as the entire supply chain services in seed, pesticide and fertilizer businesses over the next five years.
"China's food security is facing challenges from factors like extreme weather, dwindling farmland resources and foreign companies' increasing influence on many major commodities," said Ning.
In addition to tackling environmental issues, China also has to feed a growing and increasingly wealthy population who demand better and more nutritious food.
Ning said food consumption is a clear indicator of a nation's economic health. China's high-protein food consumption is increasing and people are opting for more choices, he said.
Consumption of staples like meat, fish, eggs and milk is becoming more sophisticated as consumers look for more choices in terms of health and convenience.
"From a long-term perspective, Chinese consumers' daily diet structure will see a shift from low-protein to high-protein food. Exports of edible oil will increase, while soybeans will increasingly be used as animal feed to boost pork, beef, fish and milk output," said Ning.
Last year, COFCO invested $1.5 billion for a 51 percent stake in the agribusiness operations of Hong Kong-based Noble Group, and reached an agreement with the Netherlands-based agricultural and commodity trading group Nidera BV to acquire 51 percent of its stock, which will see a fully integrated value chain created between the firms.
The acquisitions mean COFCO now holds more than $70 billion of assets and has a storage capacity of 15 million metric tons in more than 60 nations. Its total food processing capacity has reached 84 million metric tons and it is capable of shipping 44 million tons of agricultural products via various ports around the world.
Ding Lixin, a researcher at the Chinese Academy of Agricultural Sciences in Beijing, said processed foods have grown fast in China.
"The demand for juices, soft drinks, yogurt and milk will provide all sorts of opportunities for the food and ingredient business. The sector has been showing excellent growth potential," he said.
"COFCO's two big moves come after a wave of consolidation in the world agribusiness sector has shrunk the number of potential acquisitions for it to bulk up enough to compete globally with larger competitors such as ADM Co, Bunge Ltd, Cargill Inc and Louis Dreyfus SAS, known as the ABCDs," said Ding.
Yu Xubo, president of COFCO, said: "We are now able to ship soybean oil from Brazil to India, Argentine soybean meal to Indonesia and wheat produced in the Czech Republic to the United Kingdom. This not only adds more flexibility to our global supply chain, but also accelerates our localization strategy in global markets."
The company is willing to continue building grain and other agricultural product supply chains, particularly with countries in the Black Sea regions and South America, the world's two biggest grain-producing areas.
Yu also said it is keen to open more import channels in North America.