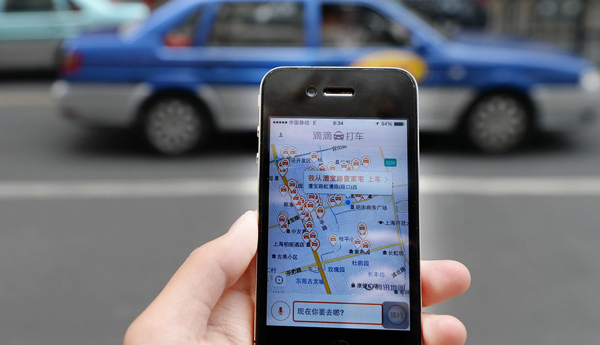 A Chinese mobile phone user uses the taxi-hailing app Didi Dache backed by Tencent on his smartphone in Shanghai, China, 16 October 2014. [Photo/IC]
Car-hailing apps are popular in China these days for one obvious reason: they offer daily commuters private car service as an alternative to the crowded public transport system and the taxi service that is often in shortage.
But there is another appealing aspect of it: mobilizing the idle hands in society during the economic downturn.
Zheng is a driver I recently met while I took a ride home using the car-hailing service. When I asked him how the driving business had been and why he was doing it, he sighed a bit and said: "I am doing this as a part-time job. My own business has gone bad."
Zheng, 39, is a steel wholesaler. He migrated to Beijing 20 years ago from a small village in Sichuan province to start his own business. He made some money during the years when the property market boomed.
Now his business has come to a complete standstill because of the tough government regulations on new construction projects and the declining property market value, which have led to a significant drop in steel demand.
Although the driving job did not pay as much as he expected, Zheng appeared to be satisfied. He said he could make about 8,000 yuan ($1,300) per month and if he is willing to work longer hours on both weekdays and weekends, he can make up to about 12,000 yuan.
"You know, this is much better than sitting at home and doing nothing. My son is going to college this year, so the extra money really helps make life easier," he said.
After talking with Zheng, I began to conduct similar surveys on other drivers whenever I used the private car-hailing service. And I found Zheng was not alone.
Drivers I have talked to, ranging from a furniture store owner, dealer of construction equipment and even waste recycler, are mostly self-employed small business owners. They are in the private driving business for the same reason: their own business is not doing well and they drive to make some extra money to cover daily expenses.
Didi Kuaidi, China's largest taxi-hailing app provider by market share, claimed that it has 400,000 drivers for its private car services and the number will exceed 1 million by the end of the year.
In mega cities like Beijing with 21 million residents and some 5 million cars, the number paints a promising future for the car-hailing business.
The popularity and success of companies such as Didi Kuaidi and Uber-its rival from the United States-are examples of the fact that innovation and information technology deserve appreciation as they mobilize the existing resources-both cars and manpower-in the most effective and low-cost way.
But then I began to wonder how long such popularity could last. Car-hailing service companies are burning cash to attract clients and to stay ahead of their rivals. It is doubtful whether such practices are sustainable in the long run, as the market incentives would vanish if the companies stop subsidizing both drivers and users.