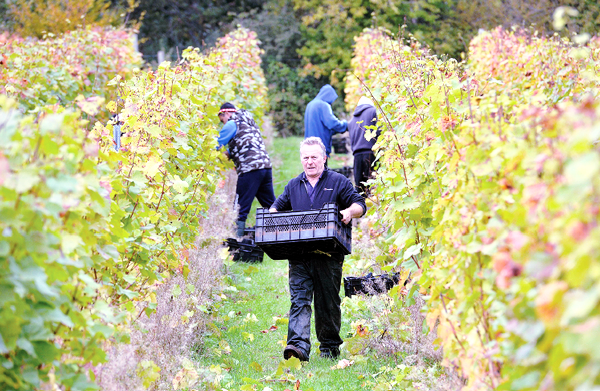 Vineyard Instructor Dave Perrin carries picked grapes at a vineyard near Scaynes Hill, part of the wine department of Plumpton College in East Sussex.[Photo/Agencies]
While climate change menaces vineyards in southern Europe, English winemakers are raising a toast to warming weather as it improves their wines and has helped revive an ancient tradition.
"Climate change is benefitt3ing us a lot," says Chris Foss, head of the Wine Department at Plumpton College, the first to offer courses in winemaking in Britain and a symbol of its maturing wine industry.
"Generally speaking for the English wine industry climate change has been a big big bonus, it really helps us develop."
England has gone from having only a few wineries three decades ago to having more than 600 today, according to Alistair Nesbitt, who researches climate change and the wine industry at the University of East Anglia.